May 13, 2022 - Gert Pohl
Detailed report of relief efforts in Kyiv and Anadoly
Dear brothers and sisters, pray-ers and friends of Life-Project e.V.
I uploaded well over 100 pictures and videos onto my PC this afternoon and evening and pre-sorted them a bit. I am still overwhelmed by the doors the LORD opened for us and the insights into current world events that we were able to gain up close this week. We didn't come seeking adventure, but an opportunity to serve. An invitation from the Kiev police provided us with the opportunity to spend an afternoon in the Kiev suburb of Irpin (site of earlier heavy fighting between the Russian and Ukrainian militaries), which was still closed to the public. Some residents remained there during the fighting and some are now returning to these areas that had been conquered by the Russian military, and which were reconquered by the Ukraine army through bloody fighting about 4 weeks ago. Many mines have not yet been deactivated there, which is why the area can only be re-entered by the few who live there, at their own risk.
So we drove in a small police van accompanied by 3 armed police officers with a total of 7 people through the military checkpoints and into the destroyed Irpin suburb, and were even able to speak to a local man who recently came back and is now trying to rebuild his bombed-out house. Four weeks ago, during our last visit to Ukraine, we were able to speak to refugees who had been liberated from Irpin. Fully traumatized, they reported about their experiences and the inhuman suffering at the hands of the Russian soldiers. Bodies on the streets and in cars were mined and lay on the streets for weeks because they could not be recovered. At that time, we were shown pictures by the refugees of dead relatives on the streets, which could not be recovered and which had been partially eaten by stray cats and dogs. We will not upload these images here. But today we are seeing this destructiveness with our own eyes and we have spoken to people who confirm these reports.

First of all a few pictures which are not necessarily in chronological order. They demonstrate the terribly destructive power of war. In light of these images, I can conceive of no justification whatsoever for the wanton destruction of entire areas of the city containing thousands of houses in which many families lived and in which many of them died. I can no longer understand anyone in Germany who, in the face of thousands of innocent casualties, can even utter a plausible sentence justifying such horror. One can but weep in the midst of this suffering and commit the perpetrators of this massacre to God's righteous judgment. We must also pray for President Putin, who one day will stand before his Creator.
So here are the first pictures from Kyiv, right next to the city highway is what remains of a large gas station: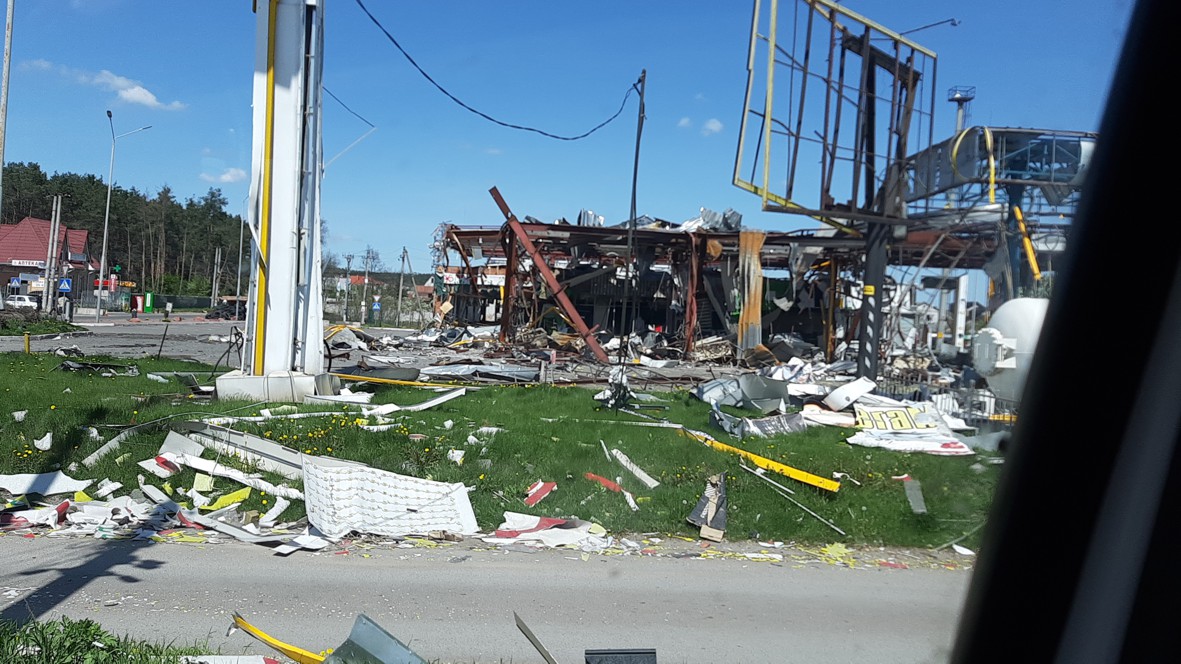 Not many days ago this was a functioning gas station that has been deliberately destroyed. I took this picture on Monday, May 9th, 2022 in Kyiv on the way to Irpin.
Only about 1 kilometer further on we saw some Russian tanks that had been destroyed and abandoned along the roadside (the Ukrainian tanks were of course not left behind)...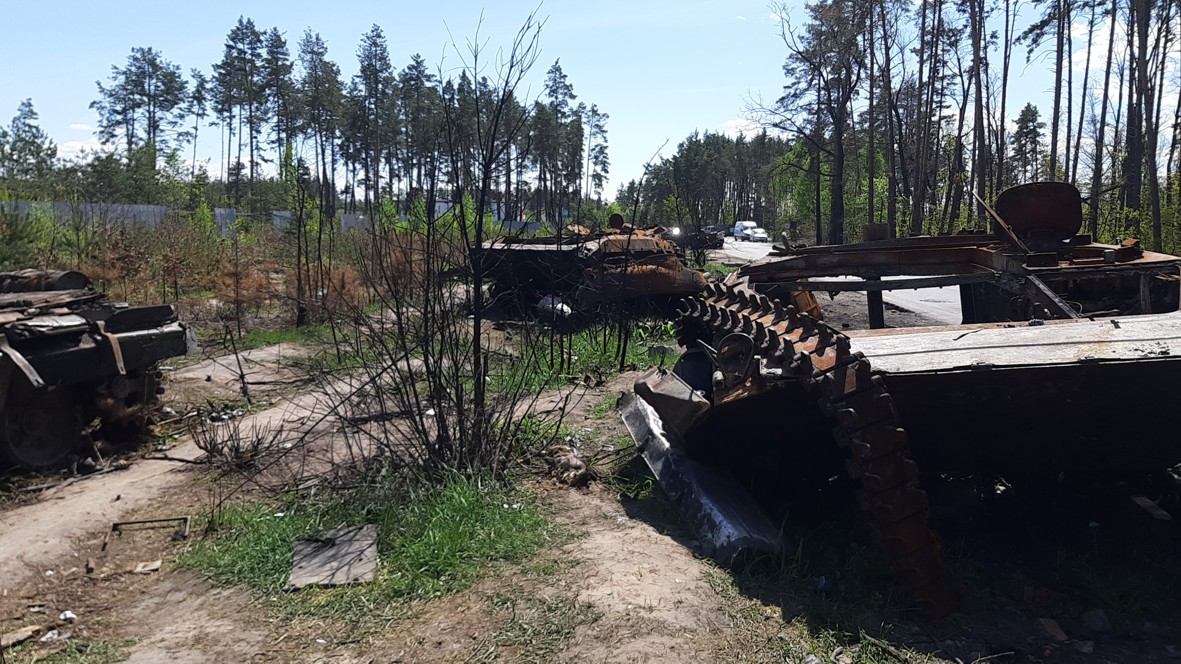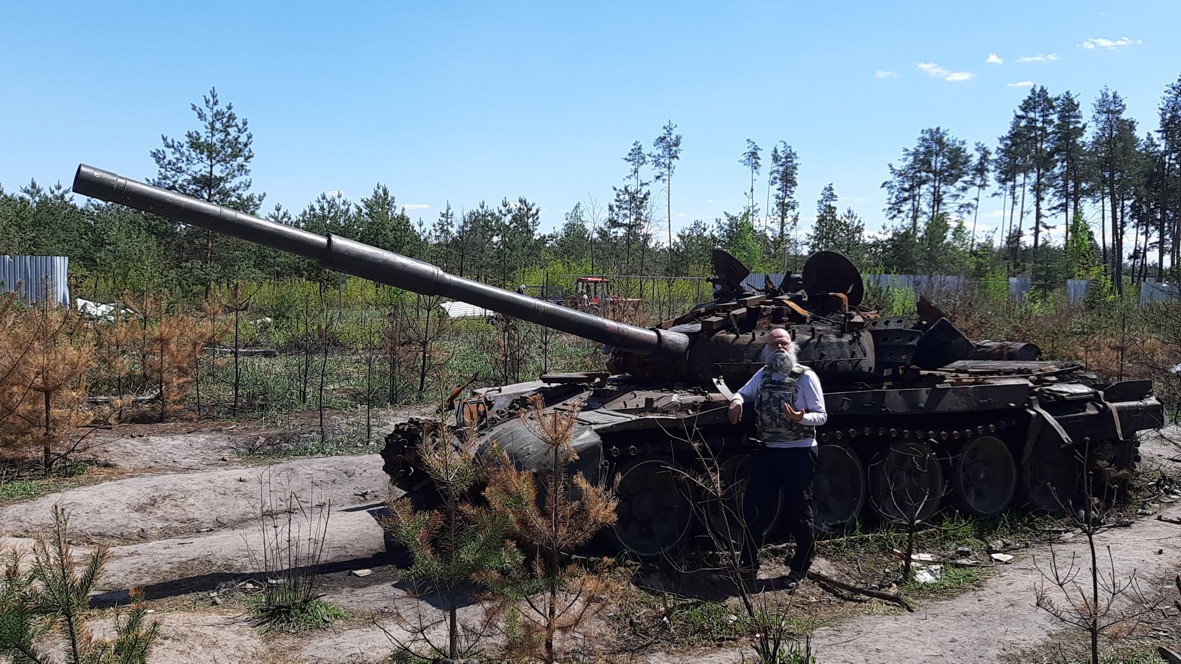 A few military checkpoints and just a few kilometers further on (we were not permitted to photograph soldiers and military posts), we arrived in a high-rise area in Irpin, where we made a brief stop..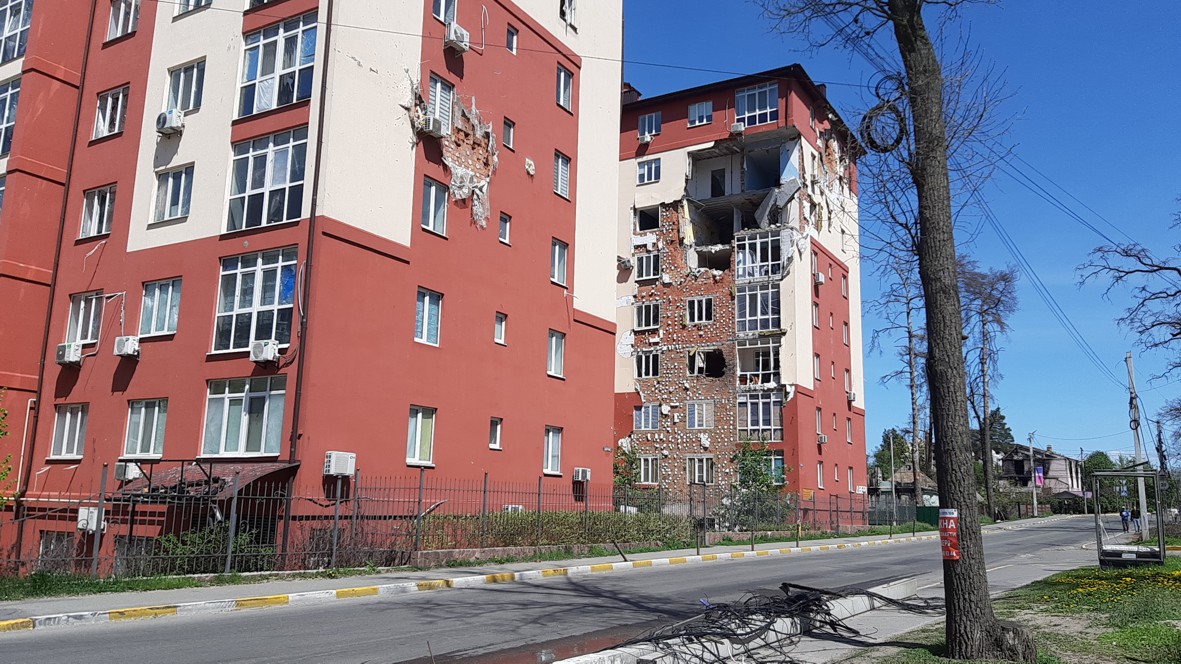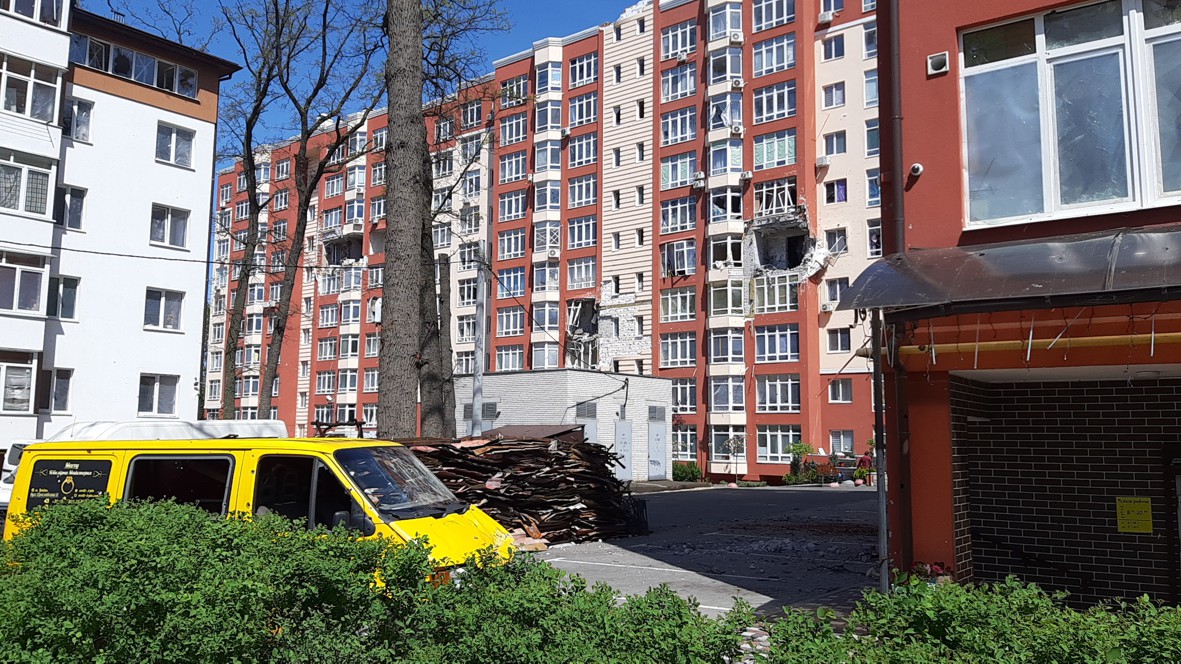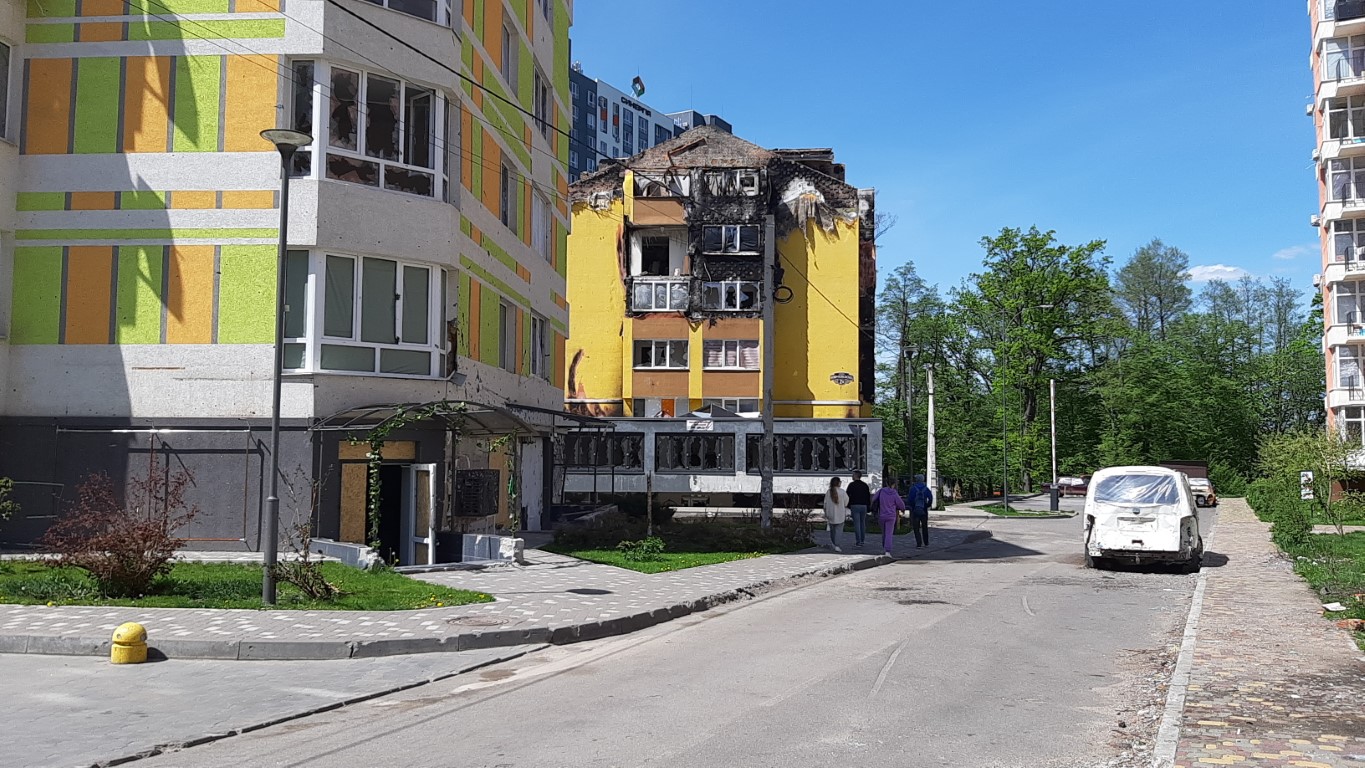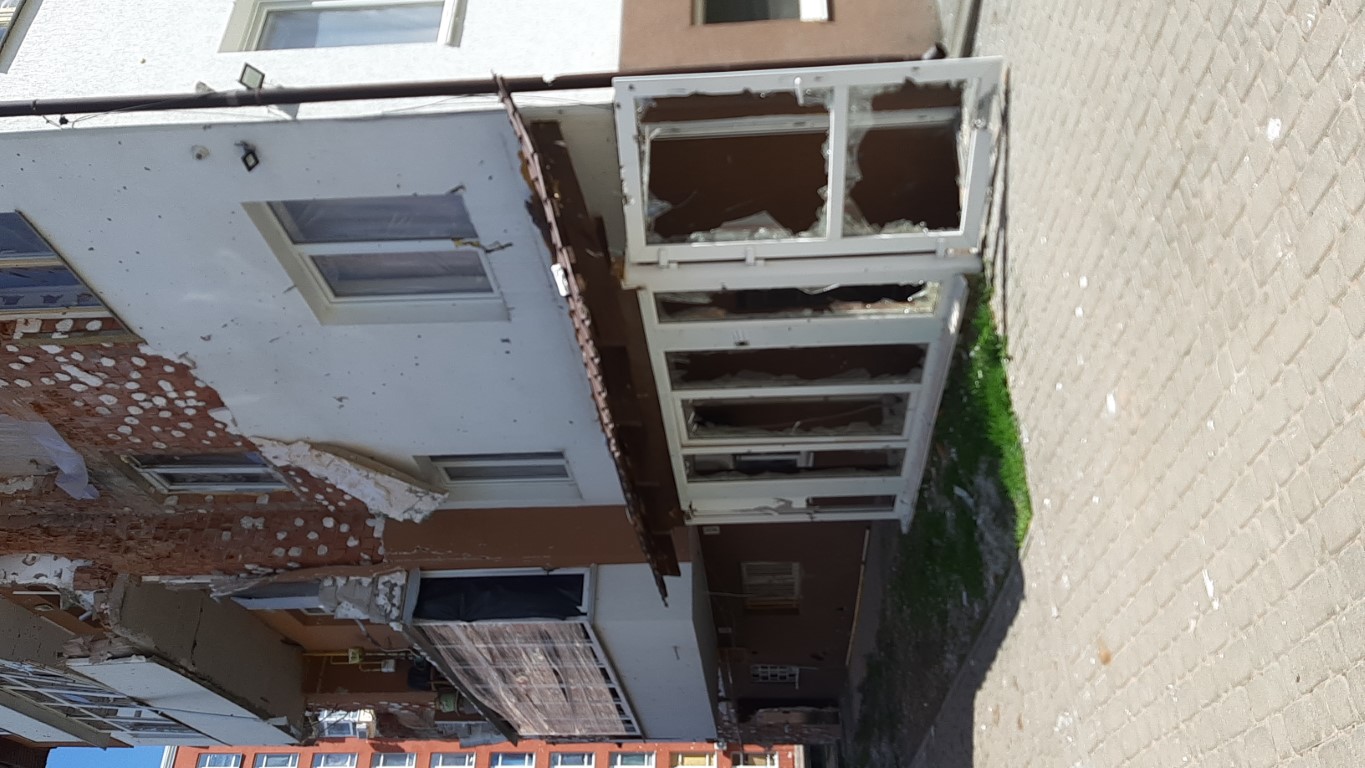 Observe the large black points of impact from rockets or similar projectiles. The smaller round holes were made by tanks, randomly firing as they drove through the streets. Families were deliberately killed. These are just a few of the pictures. We photographed more in this area and counted hundreds of these holes all over the streets. So this is how Putin "liberates" the Ukrainian people. (Please forgive my sarcasm) But this is paradoxical. For someone who has respect for human life, created by God, it is very difficult to emotionally process all this.
Then just a few blocks further: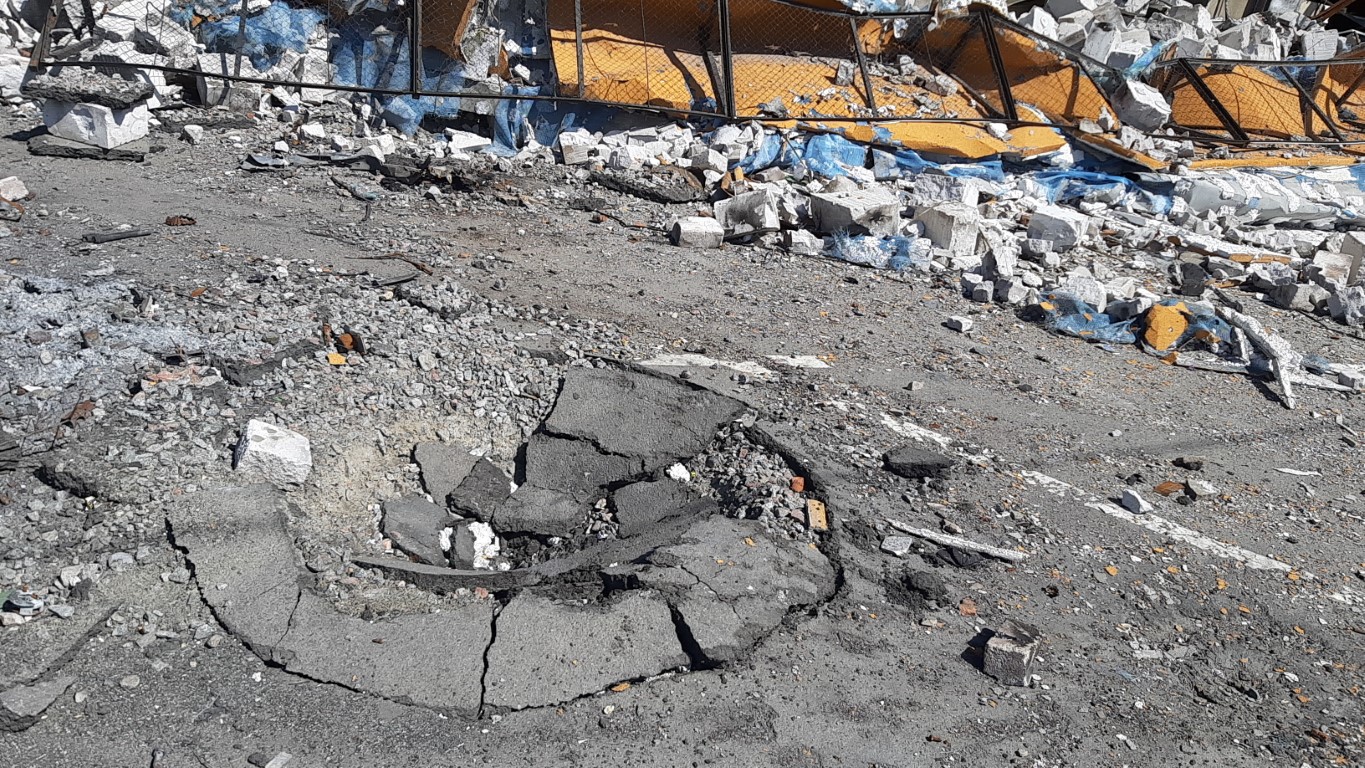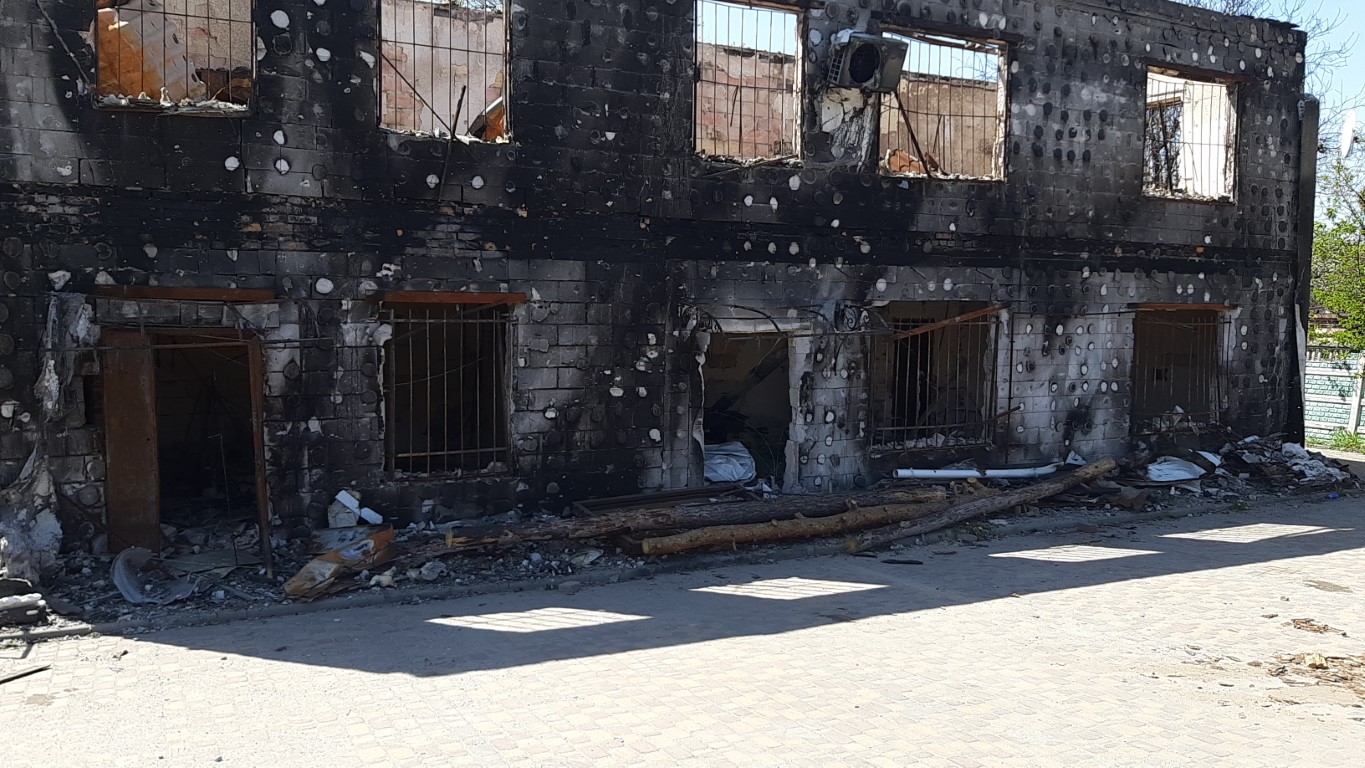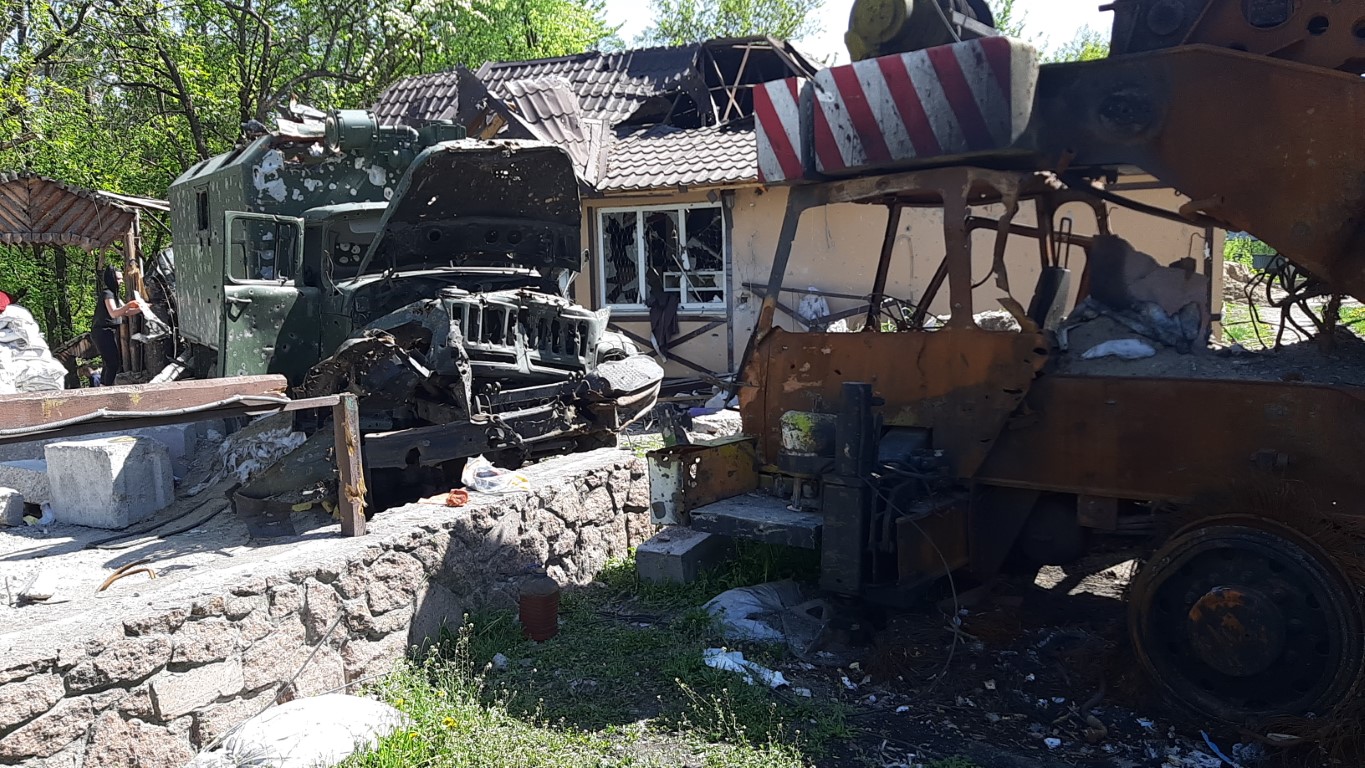 From here we pass by an area where front line fighting had taken place. In this neighborhood not one house is habitable anymore and with a few exceptions only rubble can be seen. The few houses that are still standing have been so severely damaged that they will probably have to be demolished. Up until a few weeks ago, thousands of people spent their lives here, worked and built a living. In a few days it was bombed, burned and destroyed. The corpses that had been left on the streets for weeks have now been recovered by mine clearance squads and the streets have been cleared of the coarsest rubble. I don't need to comment on the pictures below.

Below are links to two videos on Youtube. These were too large to upload to this blog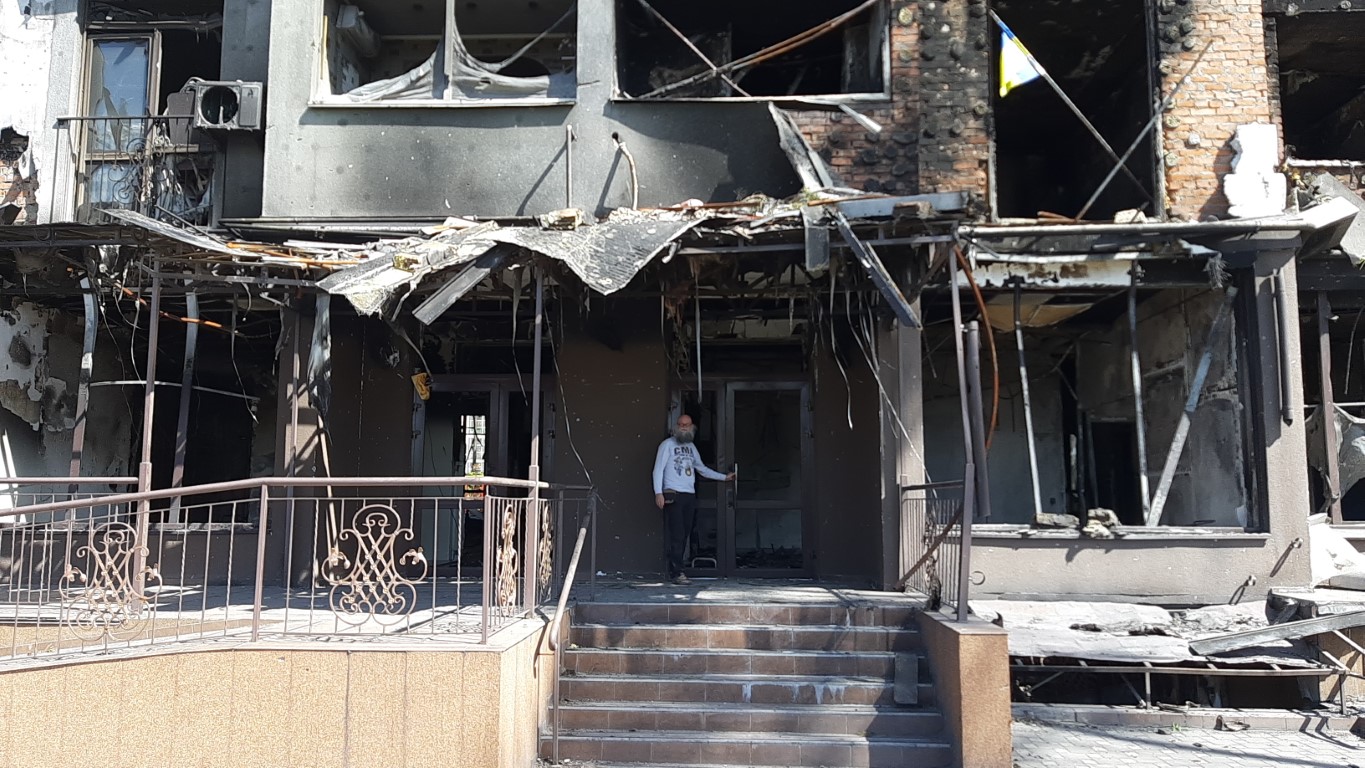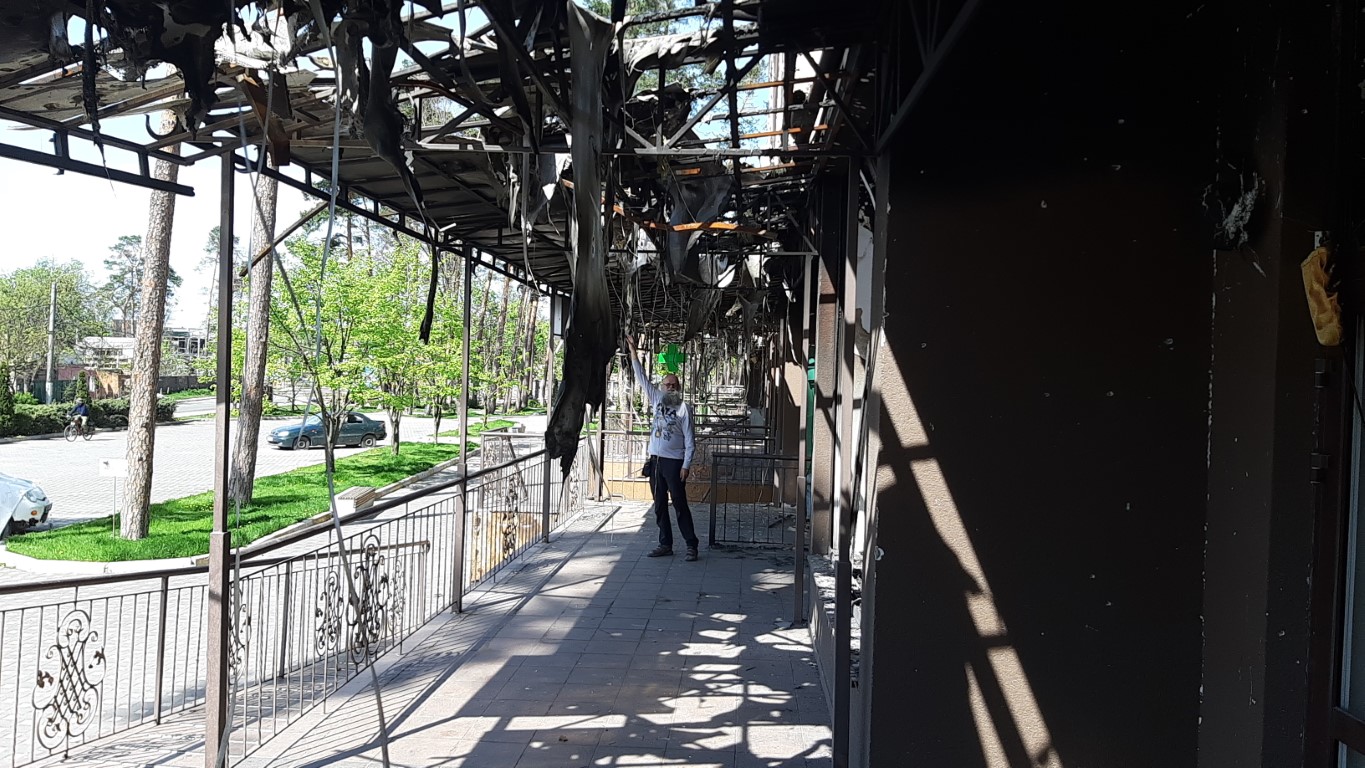 This porch was covered with a Plexiglas roof, which has now melted off in long hardened plastic strips.
And this is what it looks like inside (below);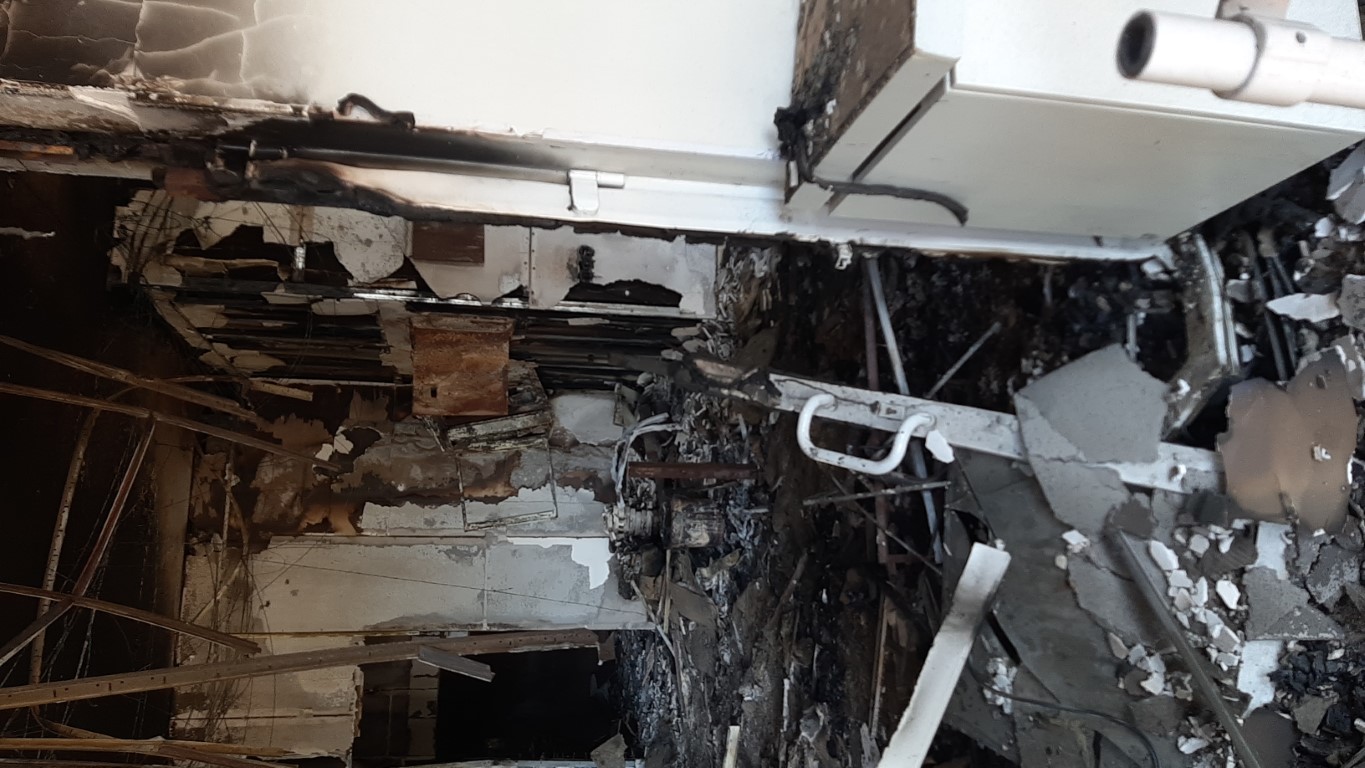 Cars shot up everywhere...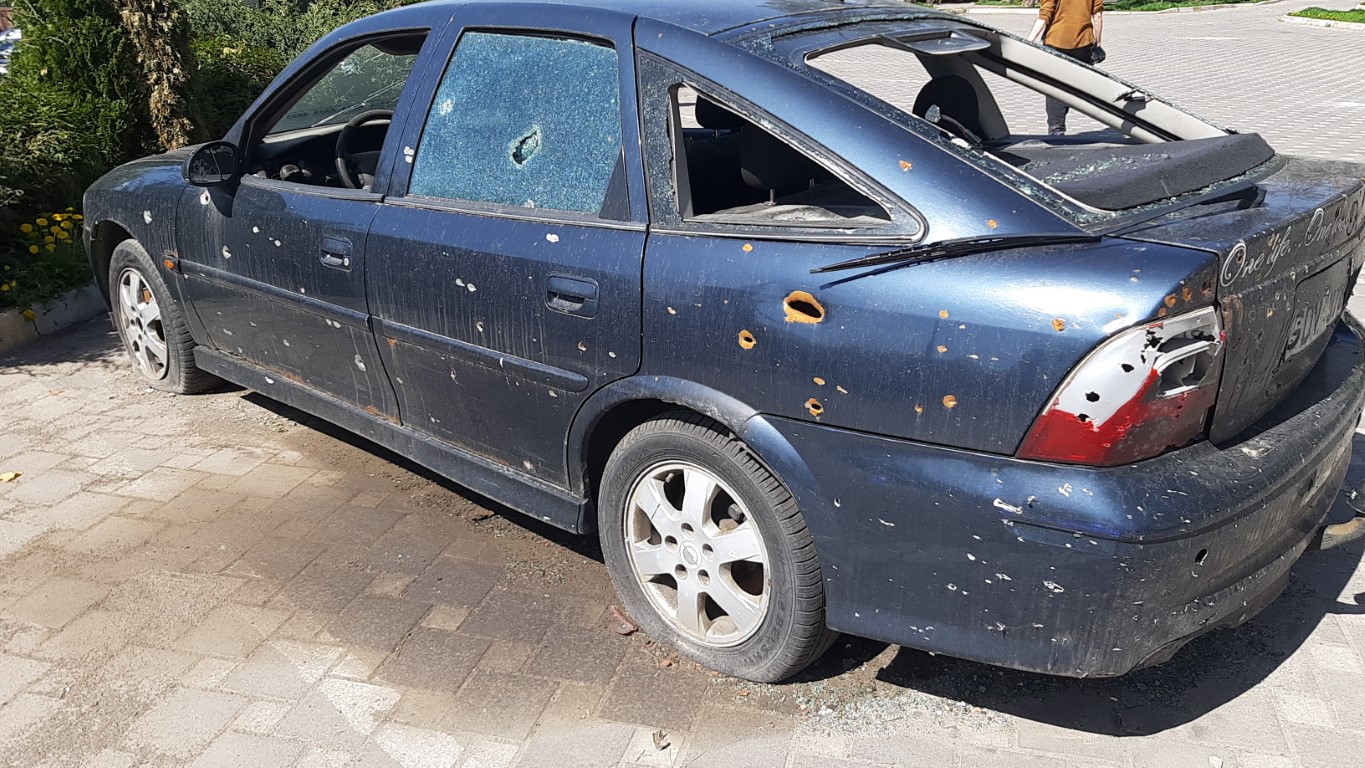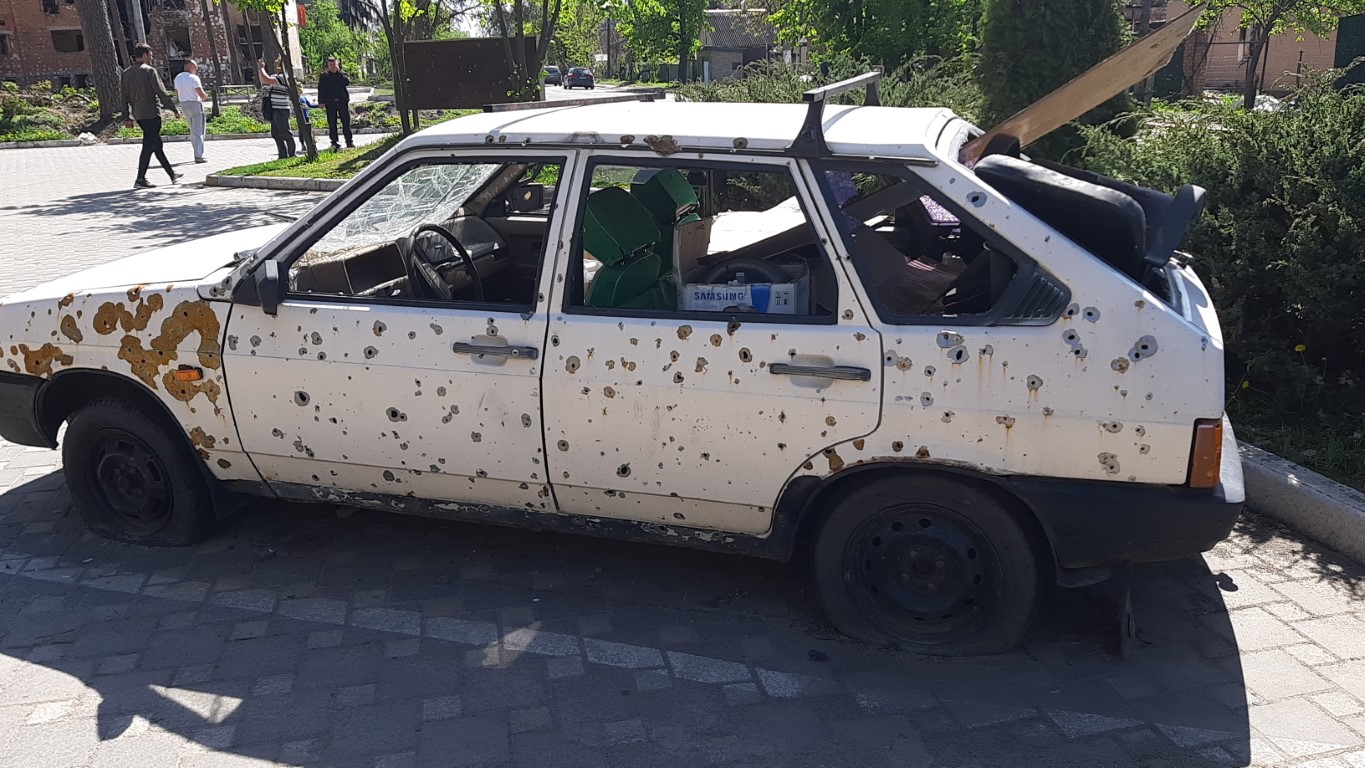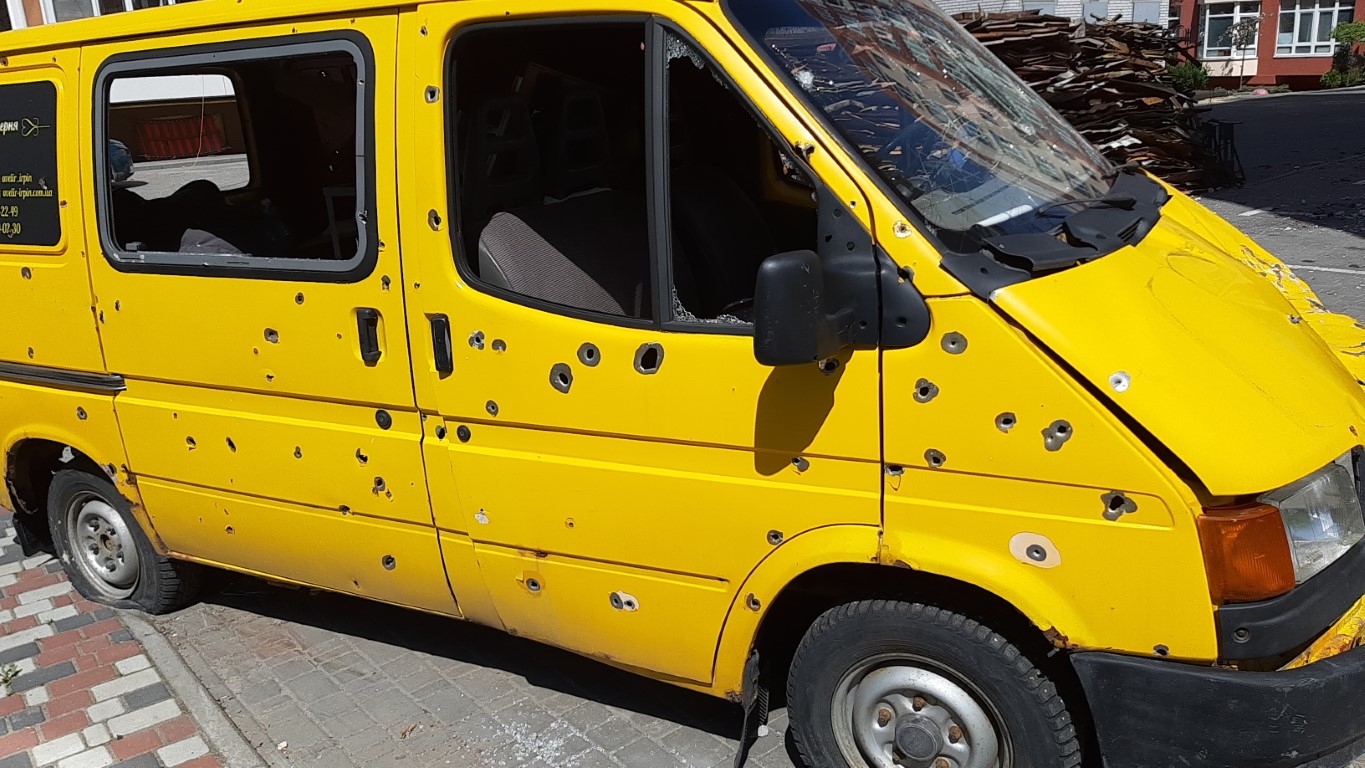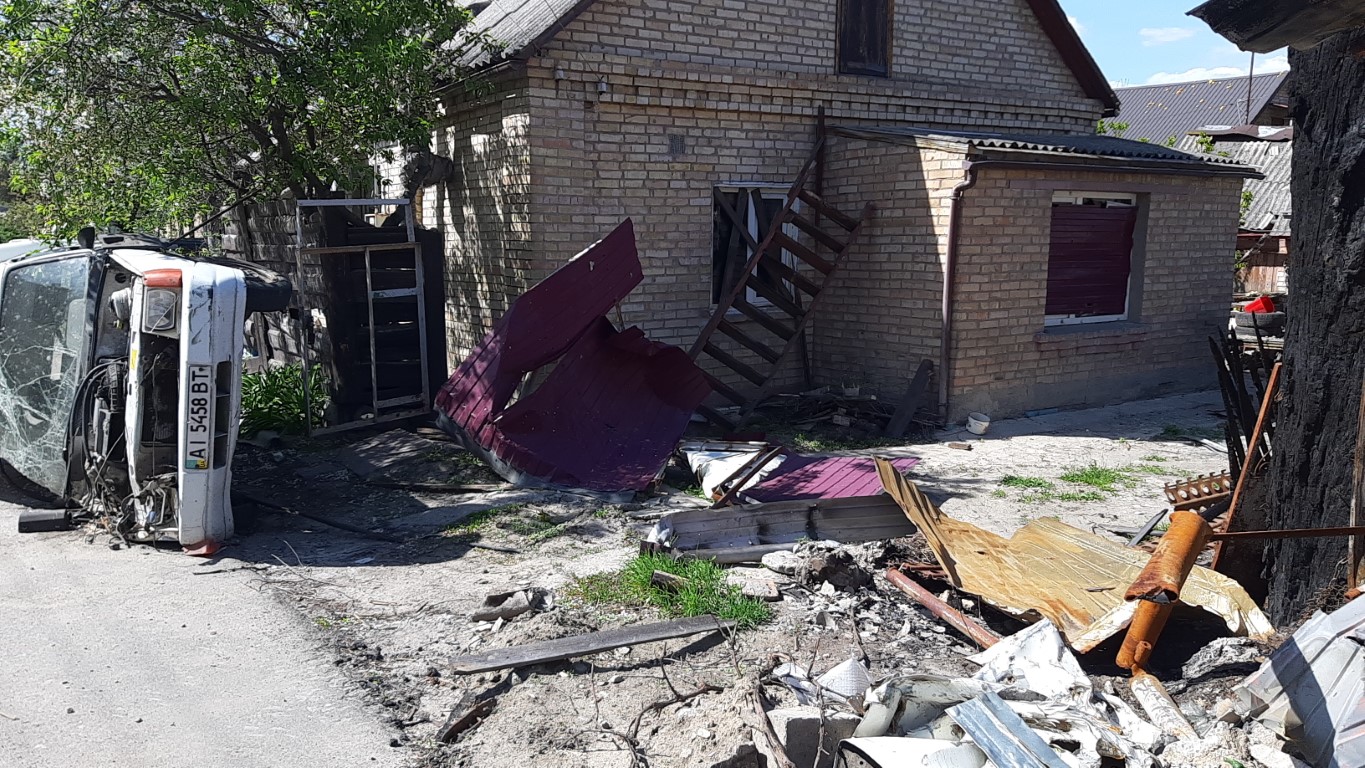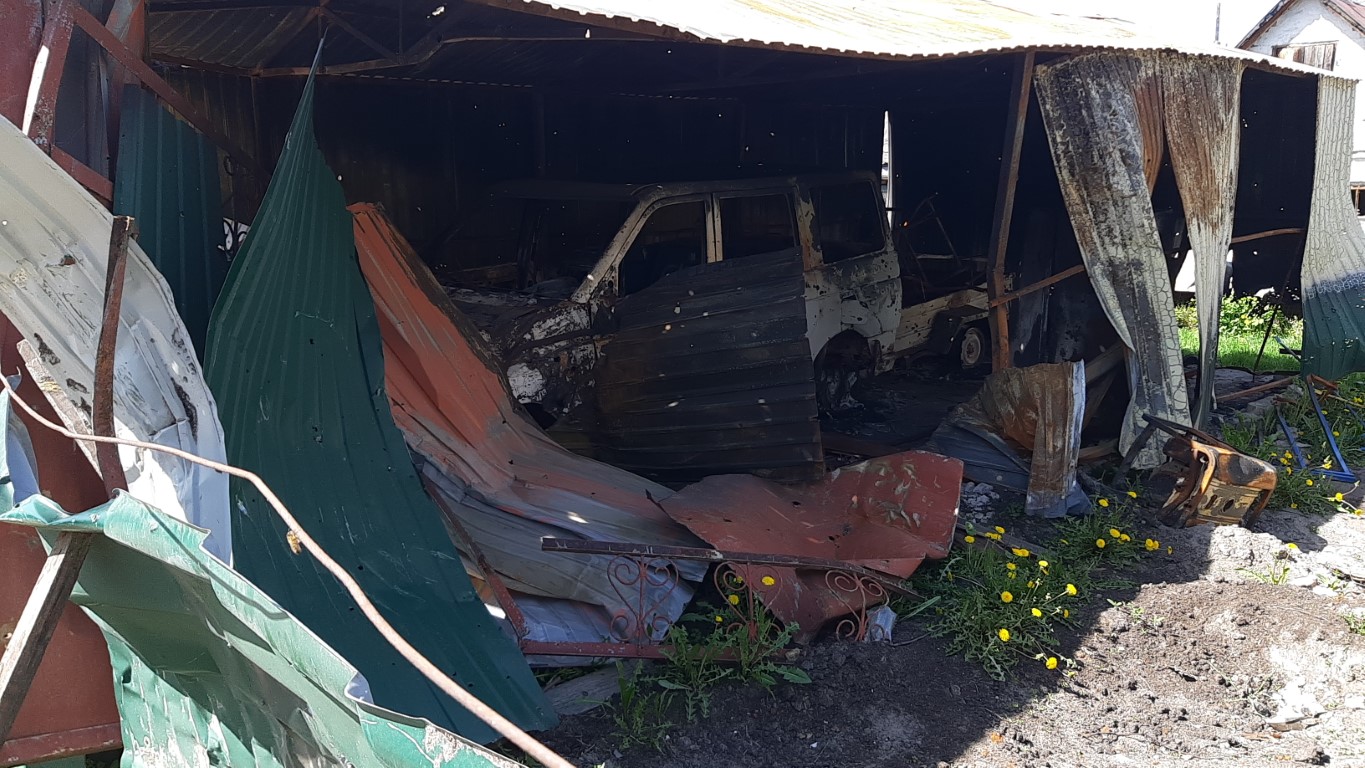 Just saddness everywhere you look. Thousands of people have suffered here, lost their livelihood, are marked by trauma or have lost their lives in this neighborhood. We were able to chat with a local. He escaped in early March and returned a few weeks ago. Some older people stayed. None of them survived. We will try to translate a video excerpt I made and post it.
Sad and depressed we all got back into our police van to leave this terrible place.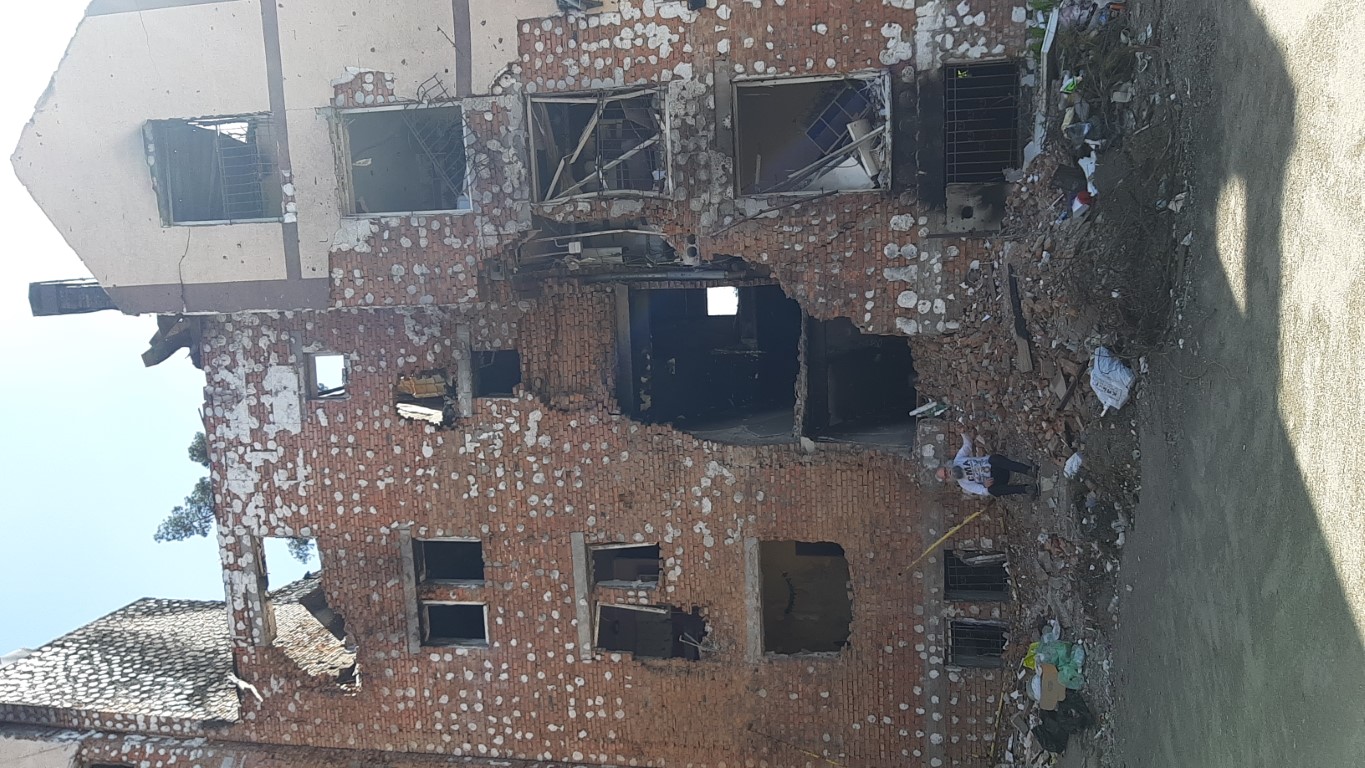 At this point I close this brief report of our unexpected visit to Irpin. We were given a new understanding of the horrors of war and the evil powers that are at work in our world. Our wish is that God would somehow intervene. But instead He allows evil men to do their terrible acts. This is something that in my lifetime I will never fully understand. But I know from His word that His judgement is just and His dealing with men is full of grace when we hold fast to Him. This too have we continually experienced throughout our visit here.
As Christians we also see how God brings people together in all this suffering and how suffering people trust HIM and are comforted in HIM. That give us courage and confidence in knowing that the day will come when we will all stand before him. We want to leave it at that, trusting that His righteousness and love are at the center of His work of salvation for mankind.
Until then, we continue to swim like redeemed fish in a sea of sin in this world, as a testimony to the nations of His love. Because that is our task here in a world full of evil and injustice of men. It is to this purpose that you support these people with prayers and gifts. And that's why we're here in Kyiv. I rejoice in His word of promise to His followers. What hope would we have without this grace of our Lord.
And I heard a great voice out of heaven saying, Behold, the tabernacle of God is with men, and he will dwell with them, and they shall be his people, and God himself shall be with them, and be their God.
4 And God shall wipe away all tears from their eyes; and there shall be no more death, neither sorrow, nor crying, neither shall there be any more pain: for the former things are passed away.
5 And he that sat upon the throne said, Behold, I make all things new. And he said unto me, Write: for these words are true and faithful. (Rev. 21,3-5)
Here begins a chronological accounting of our trip, which really reveals God's grace to us in a wonderful way:
Since our destination was the churches in Kyiv, we decided to enter via Poland, even though we knew that our brother Julius had made a similar trip a week earlier and spent two full days at the border waiting to cross.
And we discovered that he was right when he told us about his experience. About 10 kilometers on this side of the border, we met a police patrol telling us that the line to the border, about 10 kilometers away, started there. After a short conversation between the officials and our Ukrainian driver Boris, we attempted to drive past the queue. However we were stopped after 100 meters and we had to turn around and take our place at the end of the queue.
But to make a long story short, Boris did not give up. He parked our bus, took his Ukrainian volunteer card with him and after a few minutes of lively negotiation, the police allowed us to drive past this endless queue of cars and trucks. We drove carefully into the oncoming traffic on the left side of the road, with the hazard warning lights blinking. We then drove kilometer after kilometer through towns, construction sites and had to stop occasionally at bottlenecks because of oncoming traffic. We drove past thousands of vehicles. Finally, about 100 meters before the barrier, we found ourselves in the third row from the front. We then only had to wait about 3 hours. In conversations with other waiting drivers in this line, we learned that these people had already been waiting in their cars for 3 days and nights. After this intervention of God on our behalf, we realized that we didn't want to push our "luck," so on the way back we took the longer route via Romania!
But as soon as we arrived in Ukraine, we found out that fuel had become scarce and hardly a gas station was open. Long queues of drivers formed at the few gas stations that even had petrol or diesel. We counted about 80 - 100 cars at a petrol station. In addition, quantities were limited to 30 liters, sometimes to only 15 liters per customer. But here, too, we were given a way out. After the first unsuccessful attempts and a few phone calls from Boris we got a tip that there are gas stations that are officially closed, but give rationed petrol to the police, rescue vehicles and also to certified emergency aid vehicles. Without Boris and his government volunteer card, it would have taken us days to cover the approximately 1,800 kilometers that we drove across the country. The ways in which we were always able to find gasoline is another story of God's grace, which we have seen strung together like pearls on a necklace on our journey.
Here are a few pictures: The first photo on the left shows a line of cars on the side of the road. I took this photo from the moving car when I saw the line of vehicles at a gas station about 200 meters in front of me. I quickly got my cell phone ready to at least show the end of the line. There are waiting times of many hours until the one at the end of the line arrives at the pump - if there is anything left.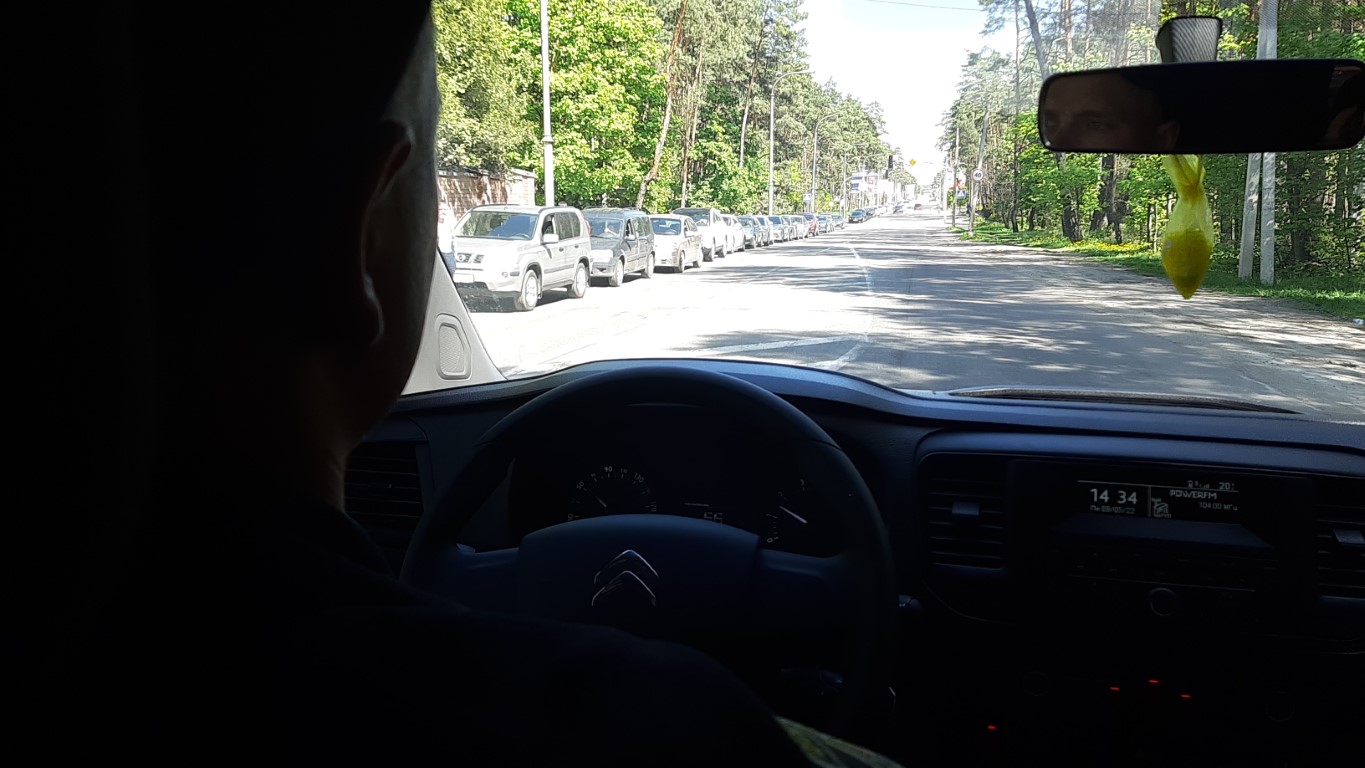 The next picture shows a gas station with a similar queue. Thanks to the volunteer ID as an emergency aid organization, we were kindly allowed to push our way in at the head of the line. We're the white bus that "squeezed" in to the gas pump. In spite of this, the people behind us were very friendly and got into conversation with Boris right away. No complaining and no scolding and a lot of understanding for everyone who comes to help...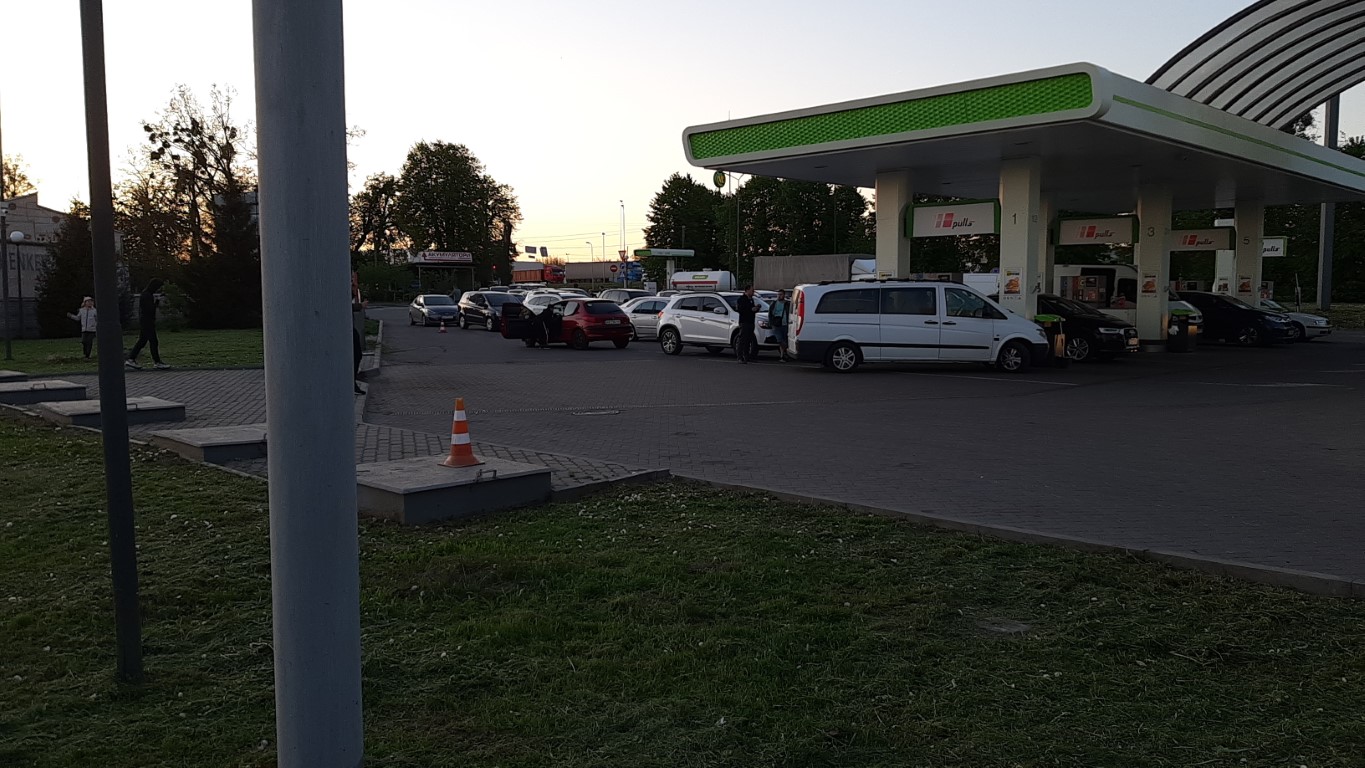 This went on over the next days for a distance of about 1500 km. Always, just about when we were to run out of gas, we came upon a gas station where we could get 15 or 30 liters without waiting in line.
And always God`s Grace ...
Our first stop was at Boris' home in the village. We spent the night exhausted from the 27-hour drive and then went to the service on Sunday after having a good night's sleep.
Below some images from that visit: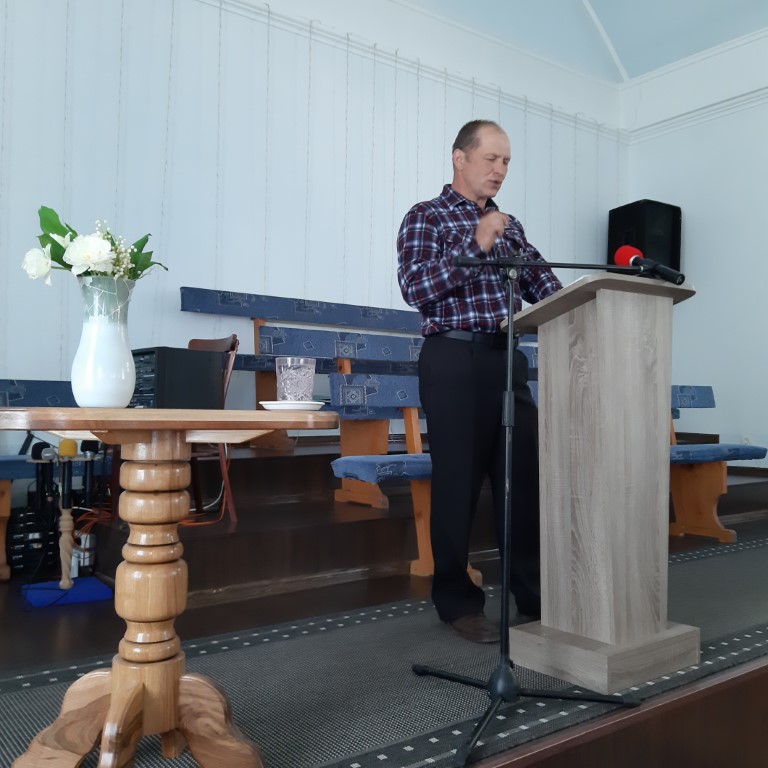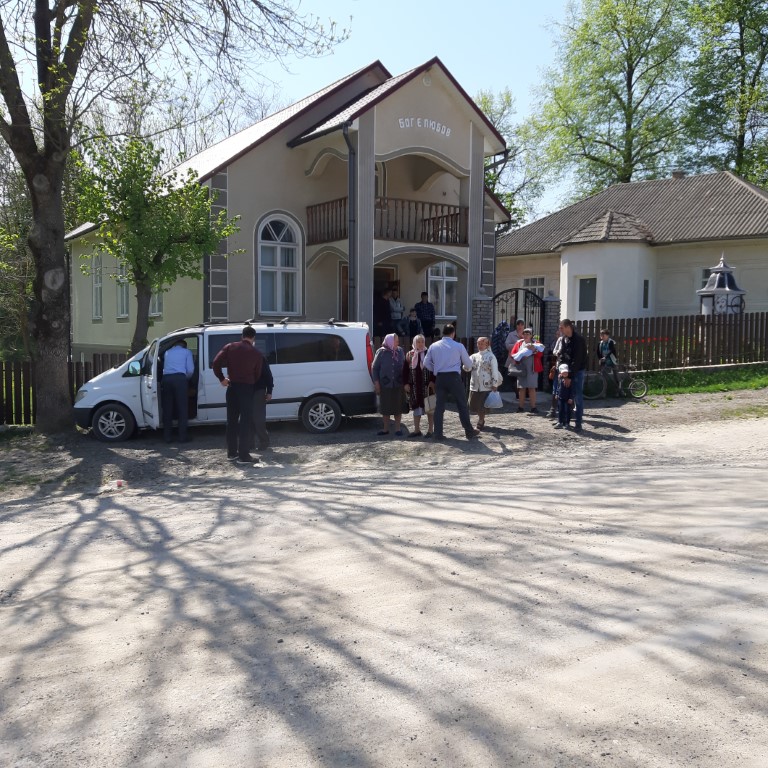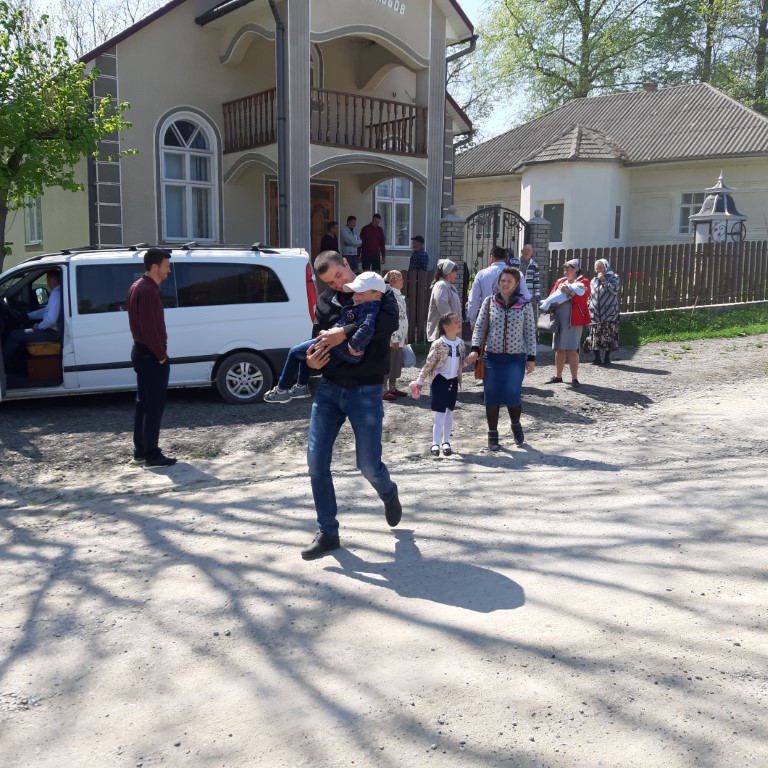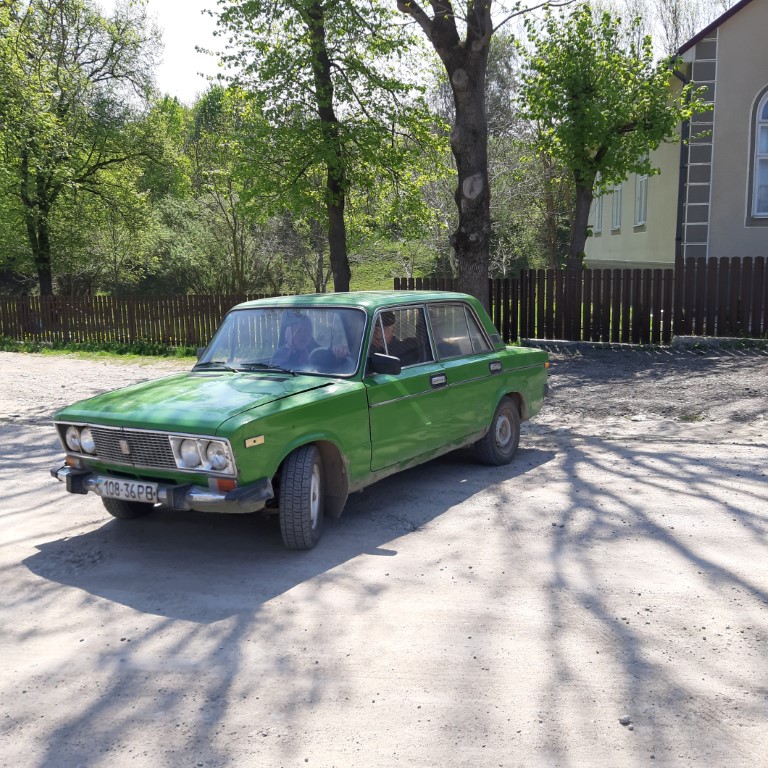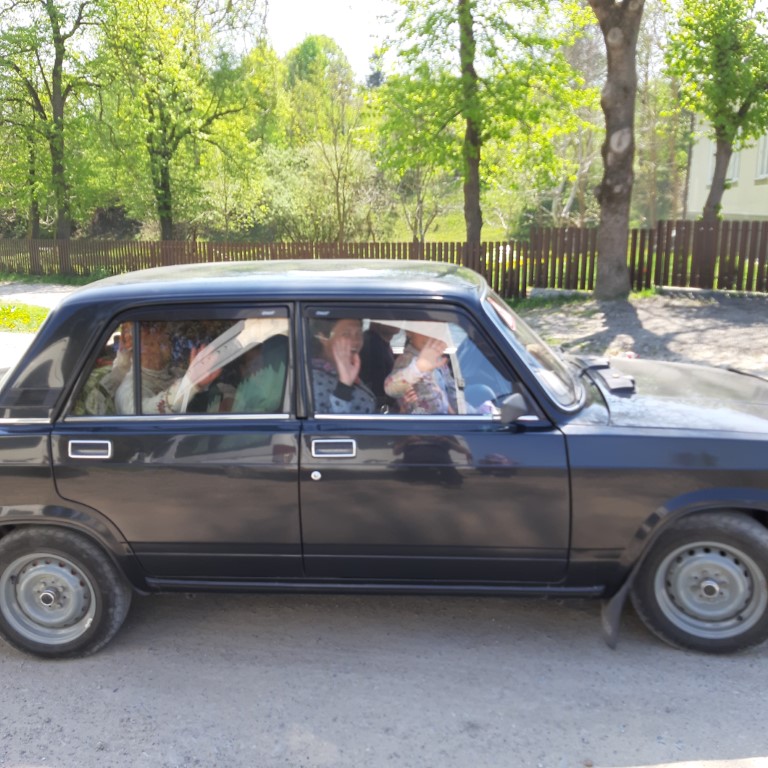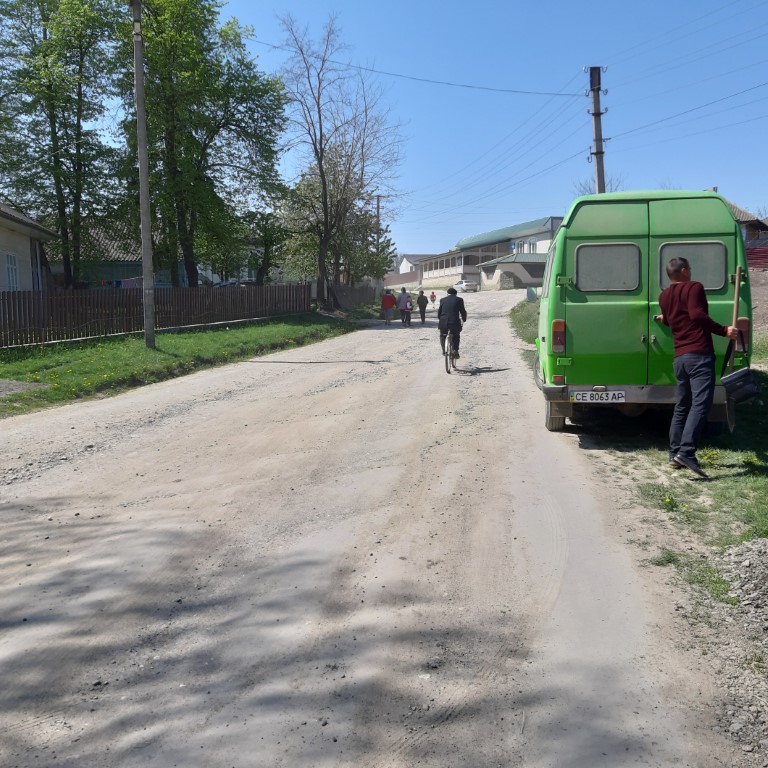 The picture below shows the church'es children's hour during the service. In the background the small church building.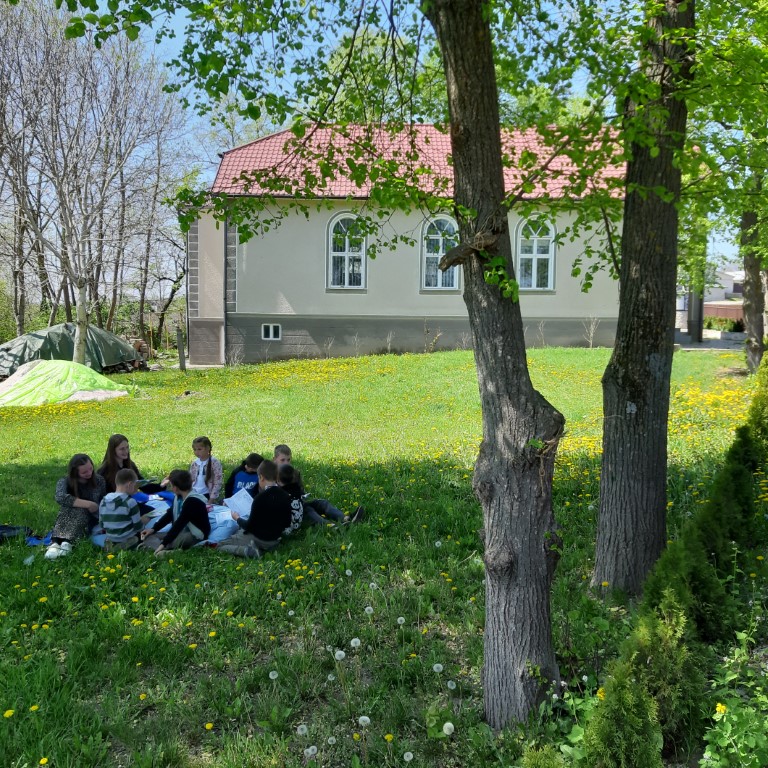 Encouraged by the conversations and the extremely friendly church family and immediately after the meal that followed, we set off on the approx. 500 km long drive to Kyiv. Our van had to go into the workshop for some repairs, so we loaded the essentials into a second van and then, loaded with donations, we were given accommodations in a luxurious house belonging to a government official.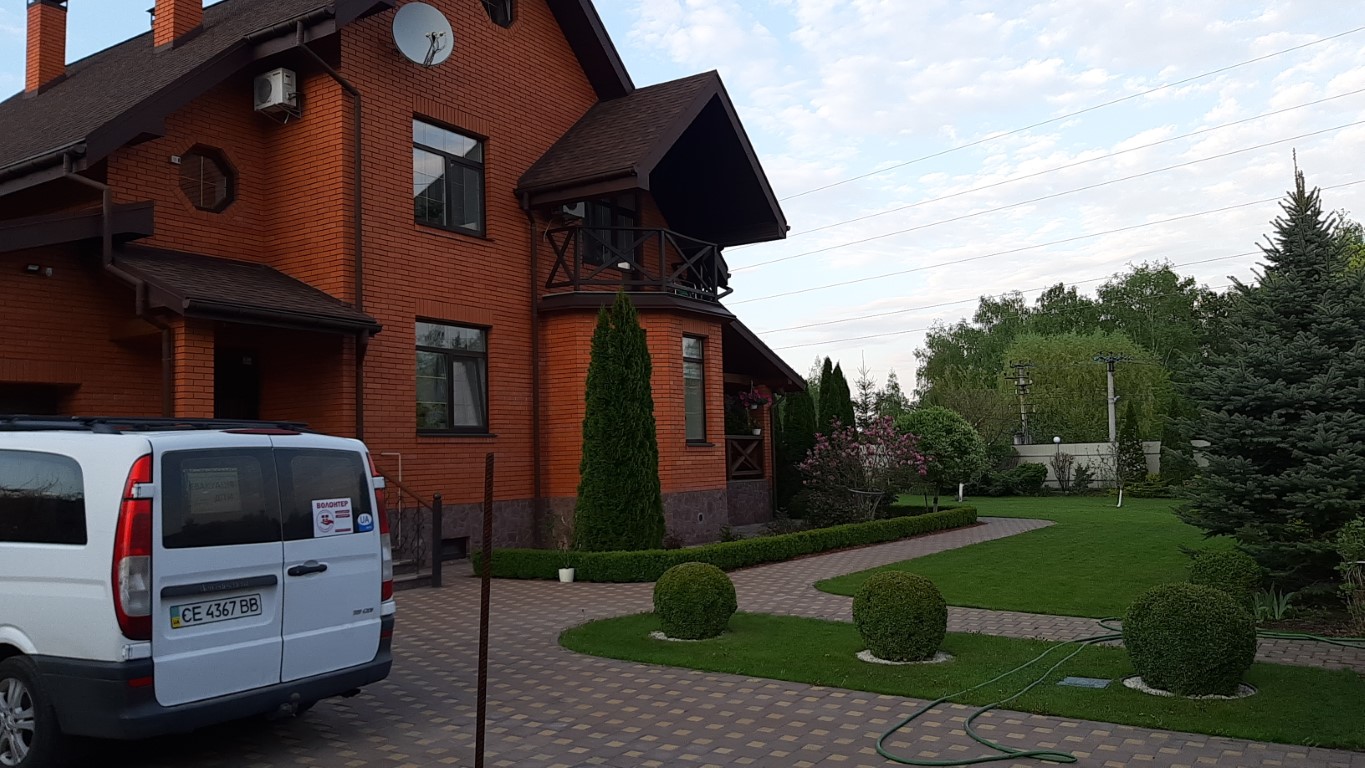 Boris knows this man with his family very well. During the siege and during our last visit to Boris, the whole family found shelter in his empty house. Boris along with a construction team organized by him completely built this beautiful house on the outskirts of Kyiv a few years ago.
It looks very professional, with sauna, swimming pool, air conditioning and well-kept garden.
The family was very kind to us and treated us well without payment. We also have Alexey, the owner who works for the police, to thank for the unusual trip to Irpin with the 3 officers who accompanied us.
After a soothing men's sauna with a wood-burning stove and a dip in the large swimming pool in the garden, we spent the night very comfortably.
On the following Monday, starting early in the morning, we had a big day planned: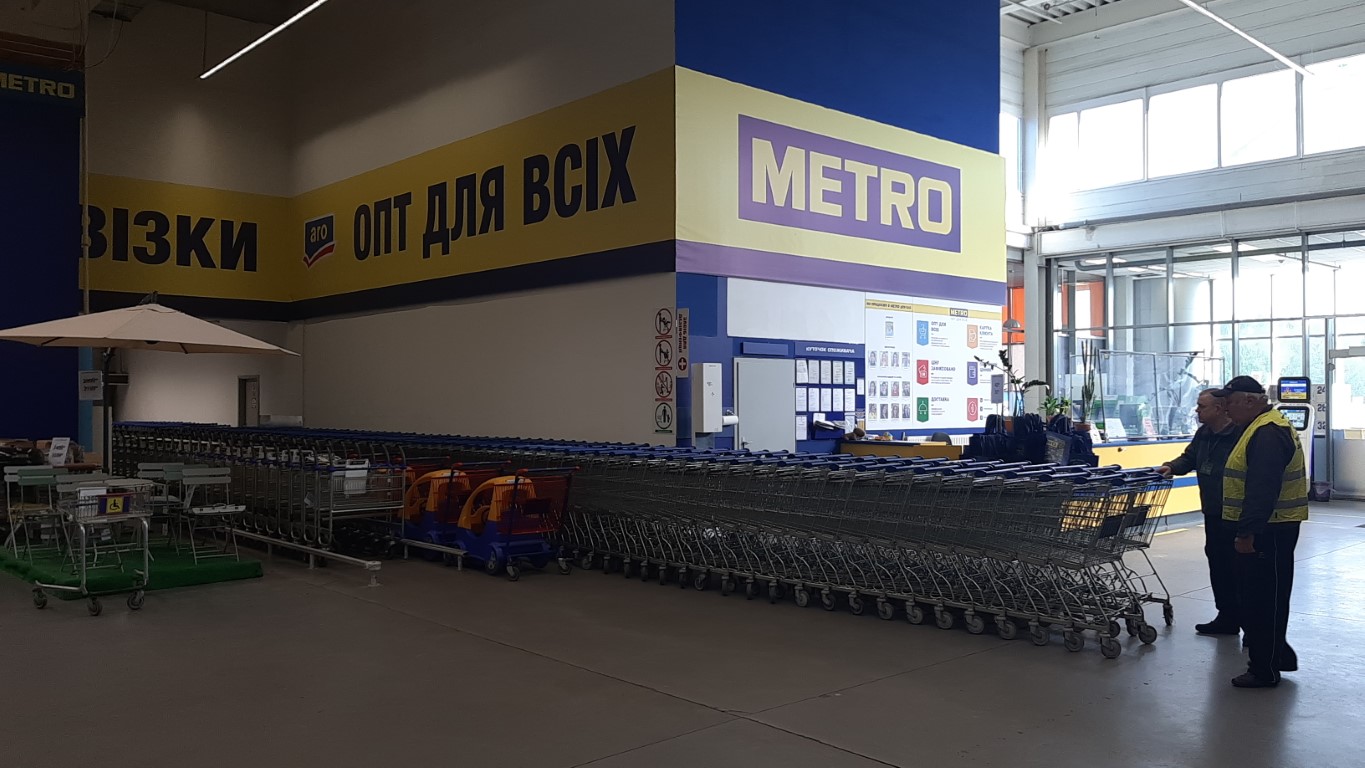 You may already recognize these pictures from last time. A packed Metro store, but very few people, as money is tight due to inflation. For us, the exchange rate is now even better at 36:1 euro. We can buy cheap and in bulk and boost the local economy (well, maybe just a little).
We exchanged about 4000.00 euros of our money and bought goods worth 1500.00 euros accompanied by brothers from the Kyiv churches. We were out of time because our plan was to divide up the goods into plastic bags and deliver them to a distribution point in Kyiv. I didn't know exactly what to expect, so look at the pictures and be surprised as well: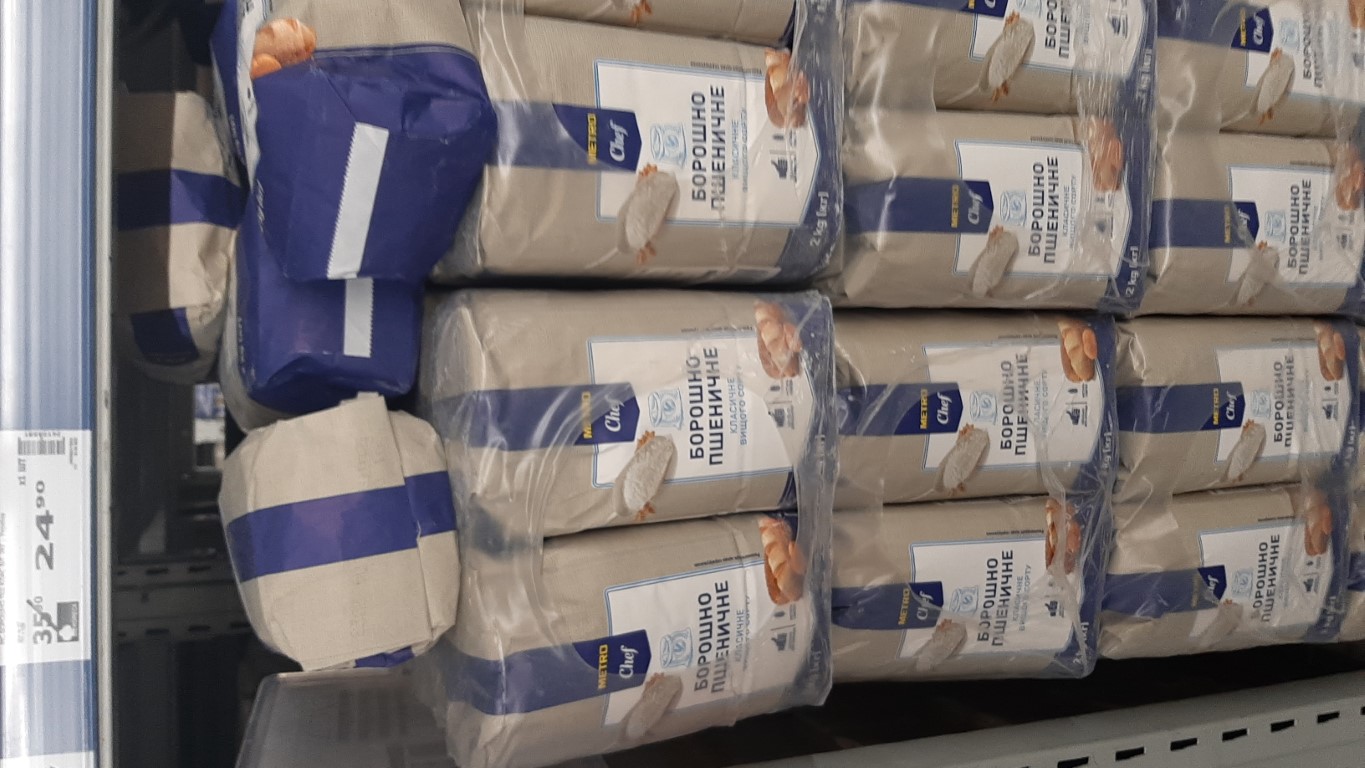 Wheat flour is really cheap. 2kg for 24.90, that's about €.69.
Below we see Roshdi (probably misspelled) an evangelist from the Kiev church that runs a dispensary for war-disabled people in downtown Kyiv. This is something like an evangelistic mission where people from Kyiv and from the country's current war zones can register and be provided with the most essential supplies from donations like ours, free of charge.
But not only that...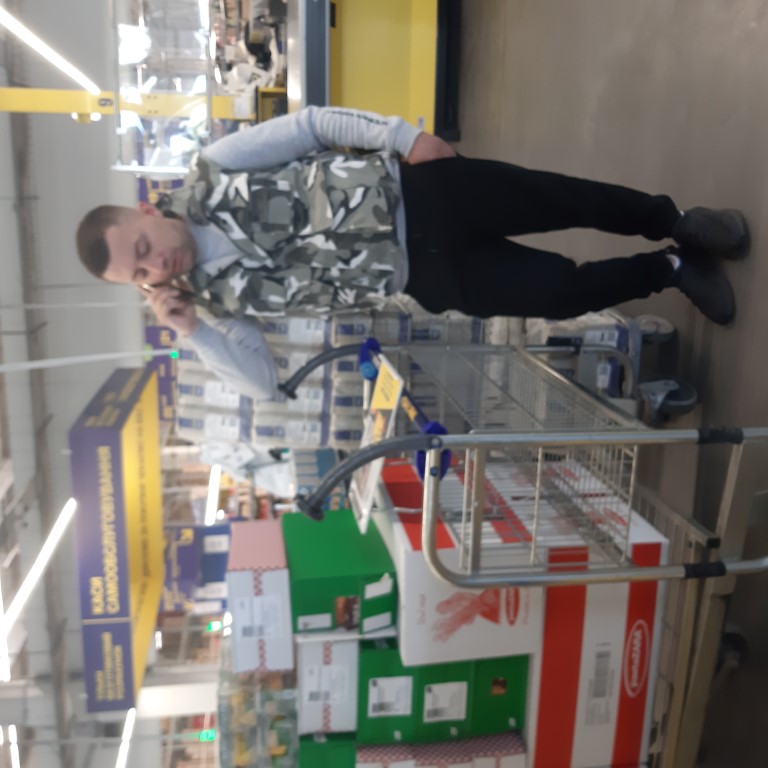 While we're still in the parking lot, we begin to pack groceries into small black plastic shopping bags from the Metro. On each package we attached one of our Life-project stickers that we brought from Aalen: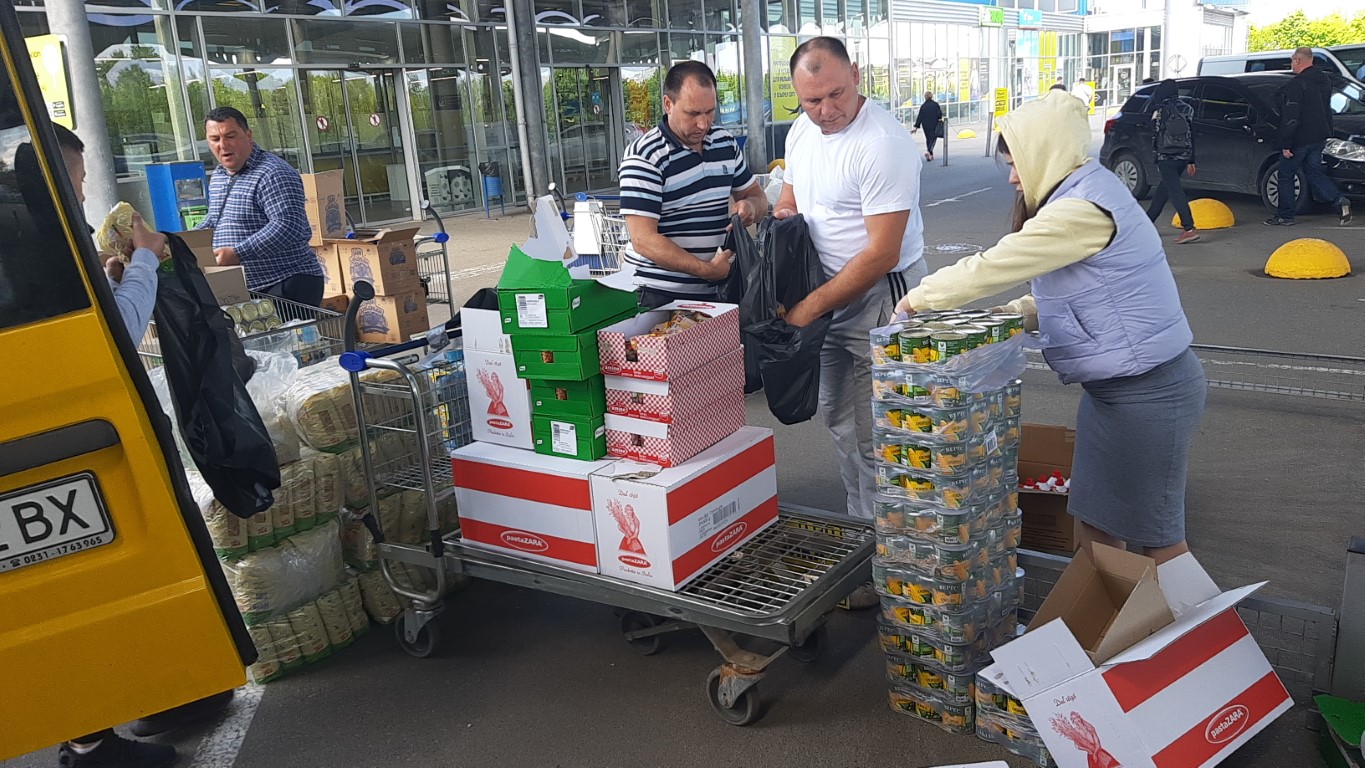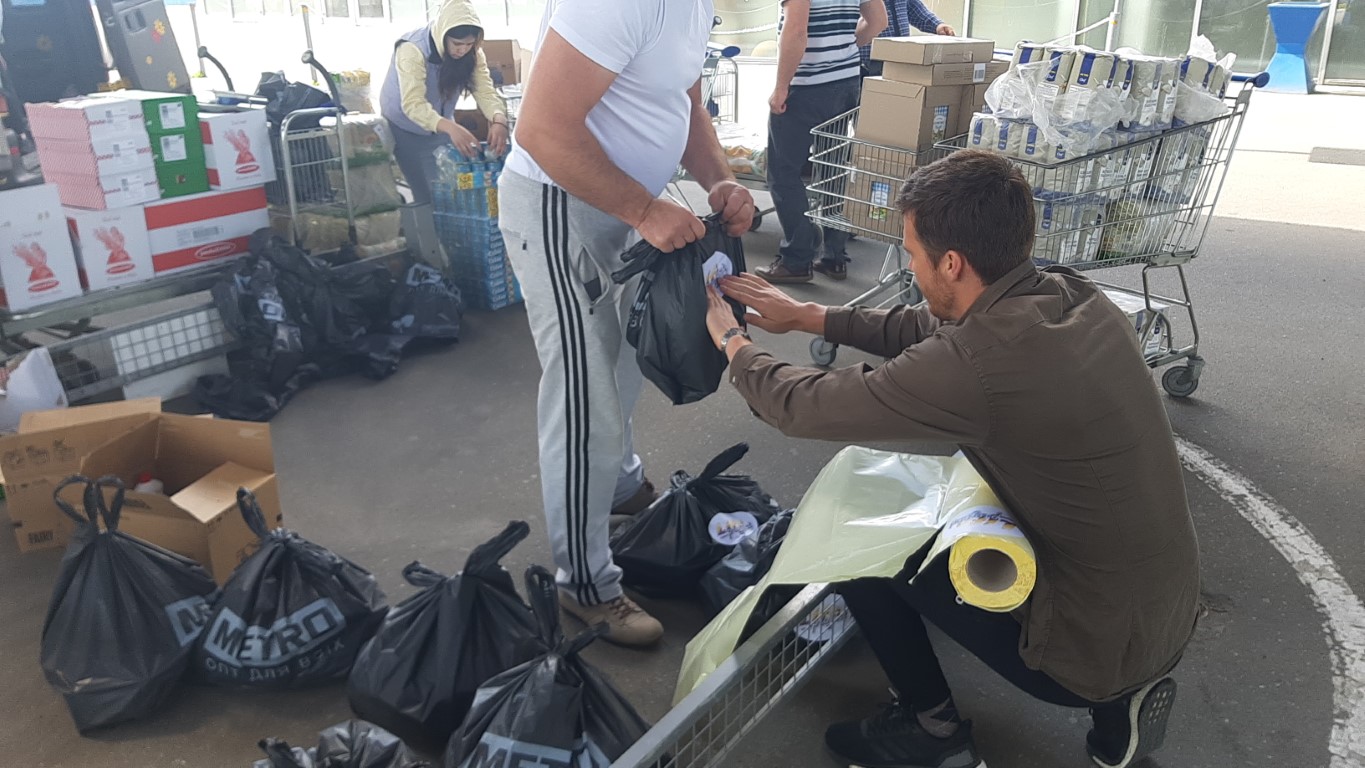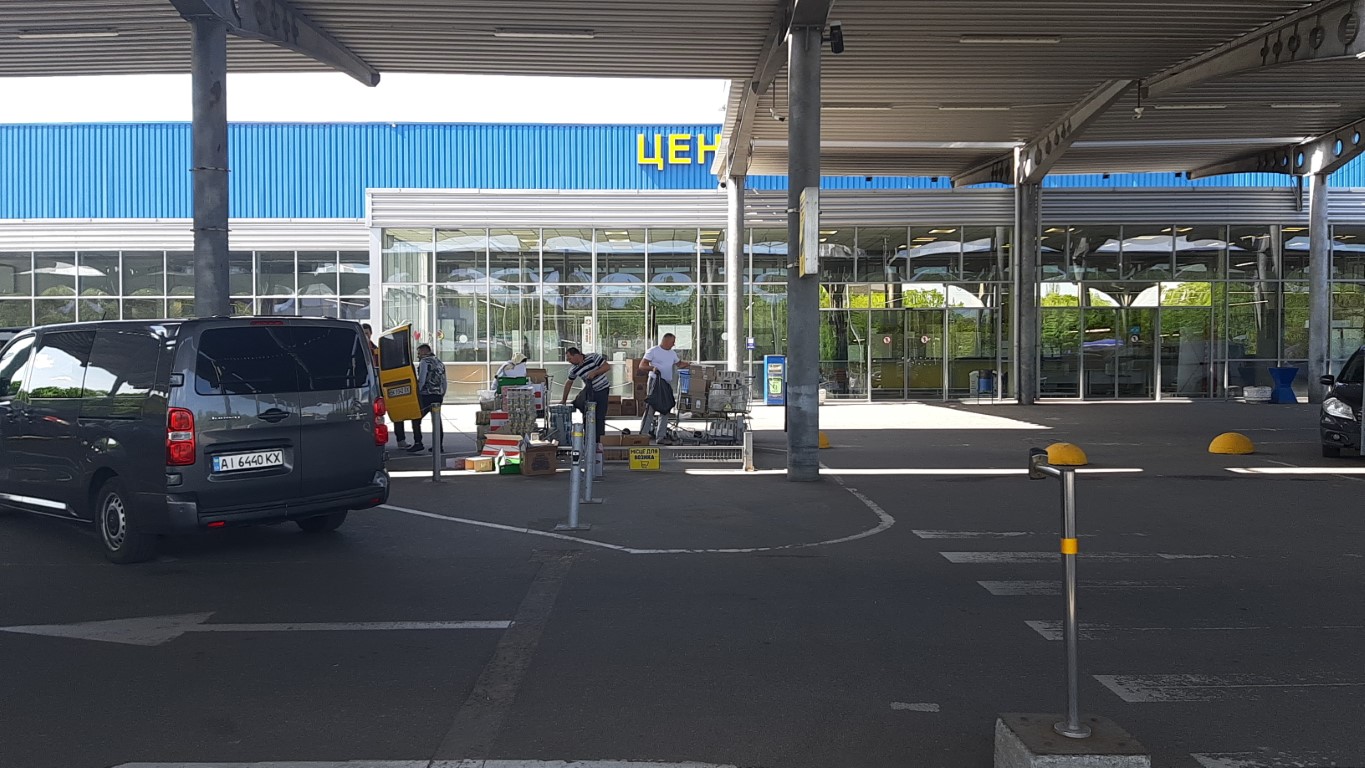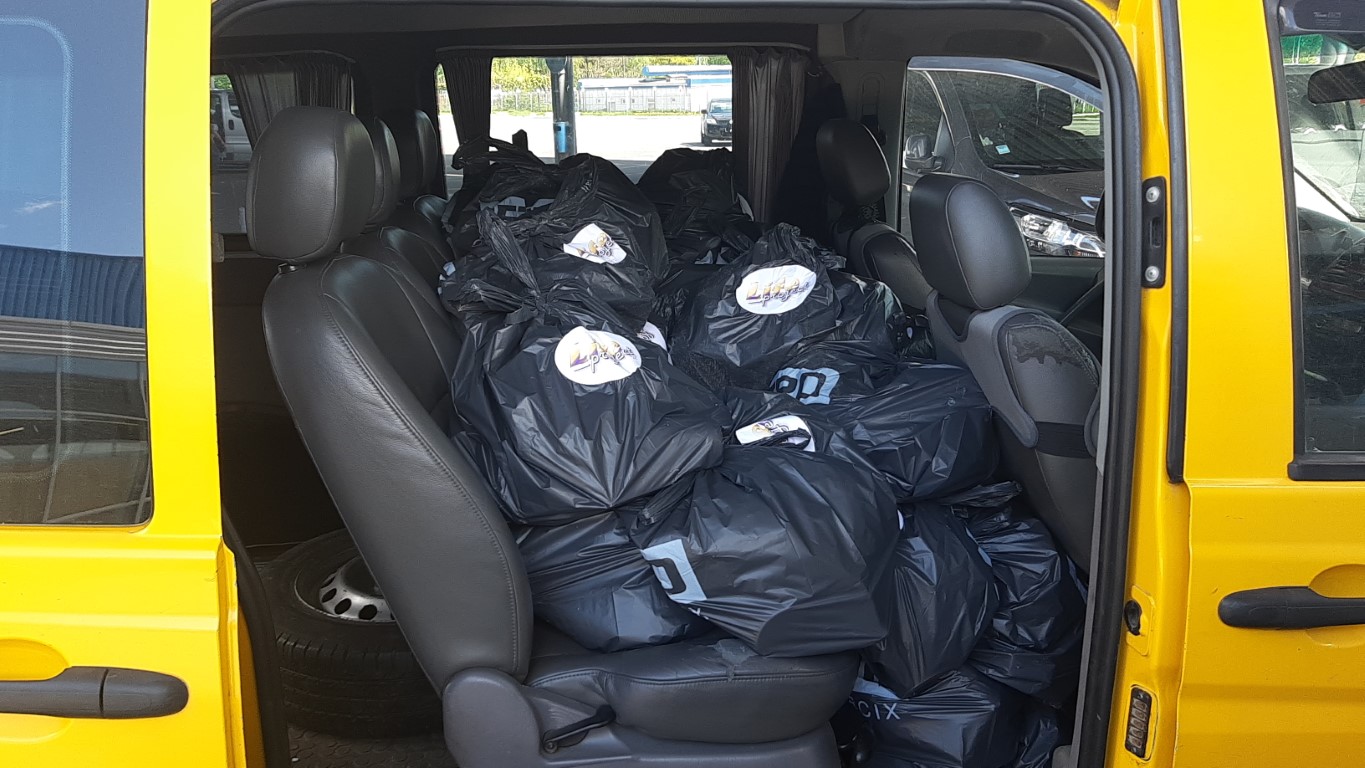 Complete! After packing more than 50 bags we headed off to the city center, where people were already queuing up in front of an empty former clothing store at an underpass:
We were very impressed by what we were able to experience there: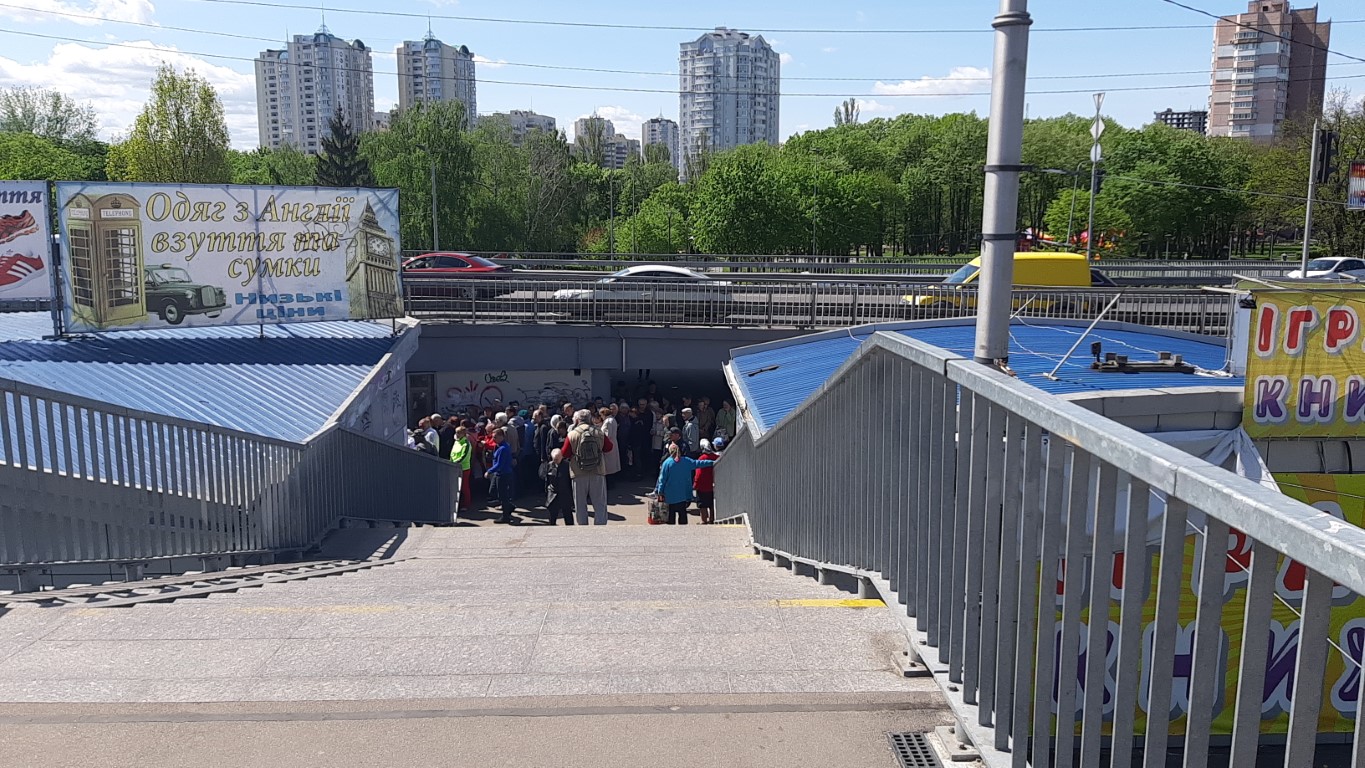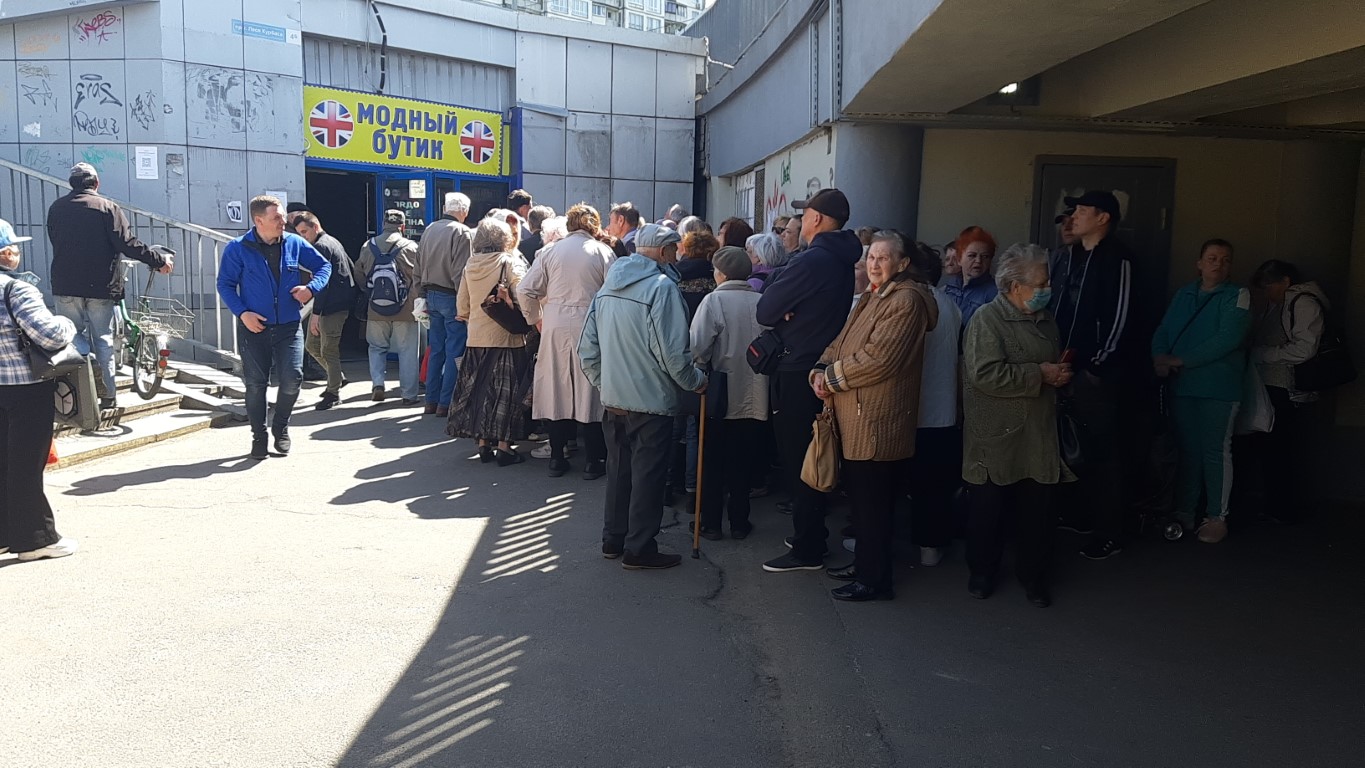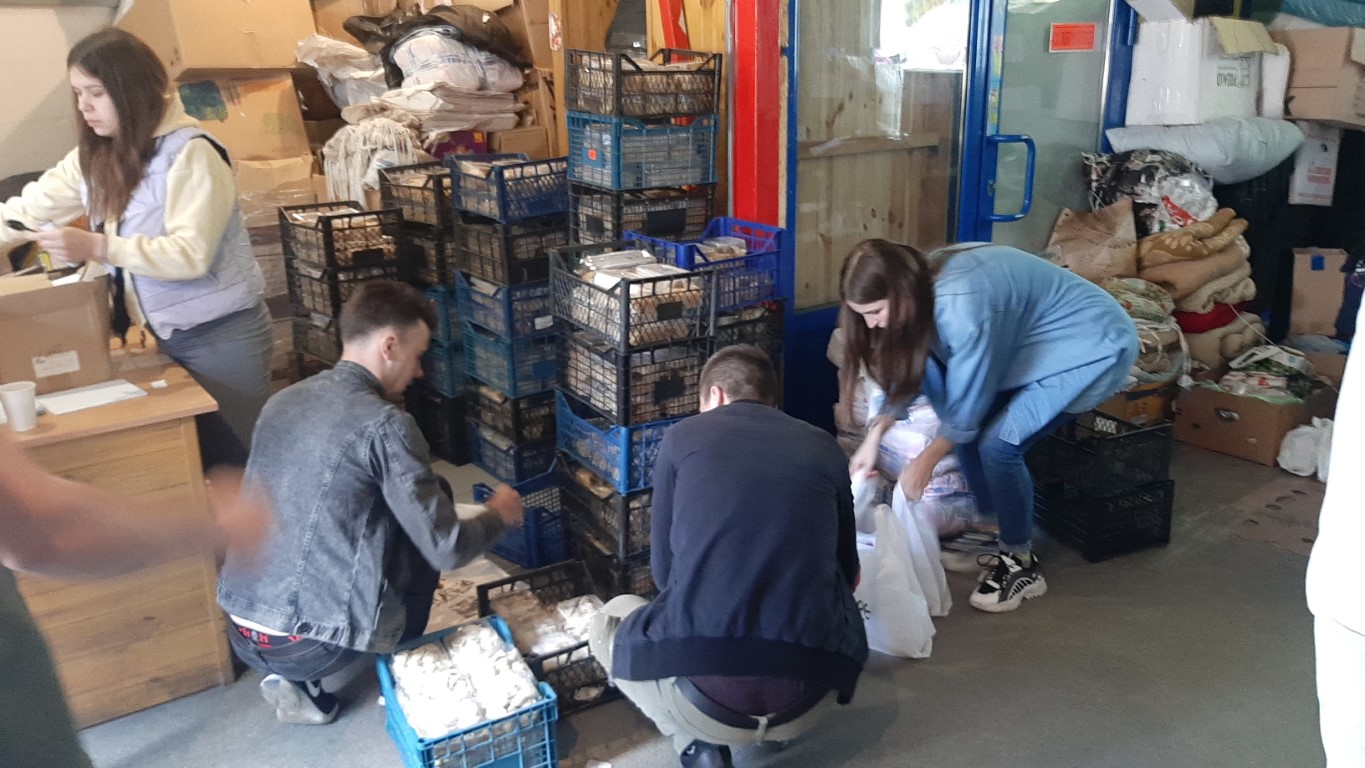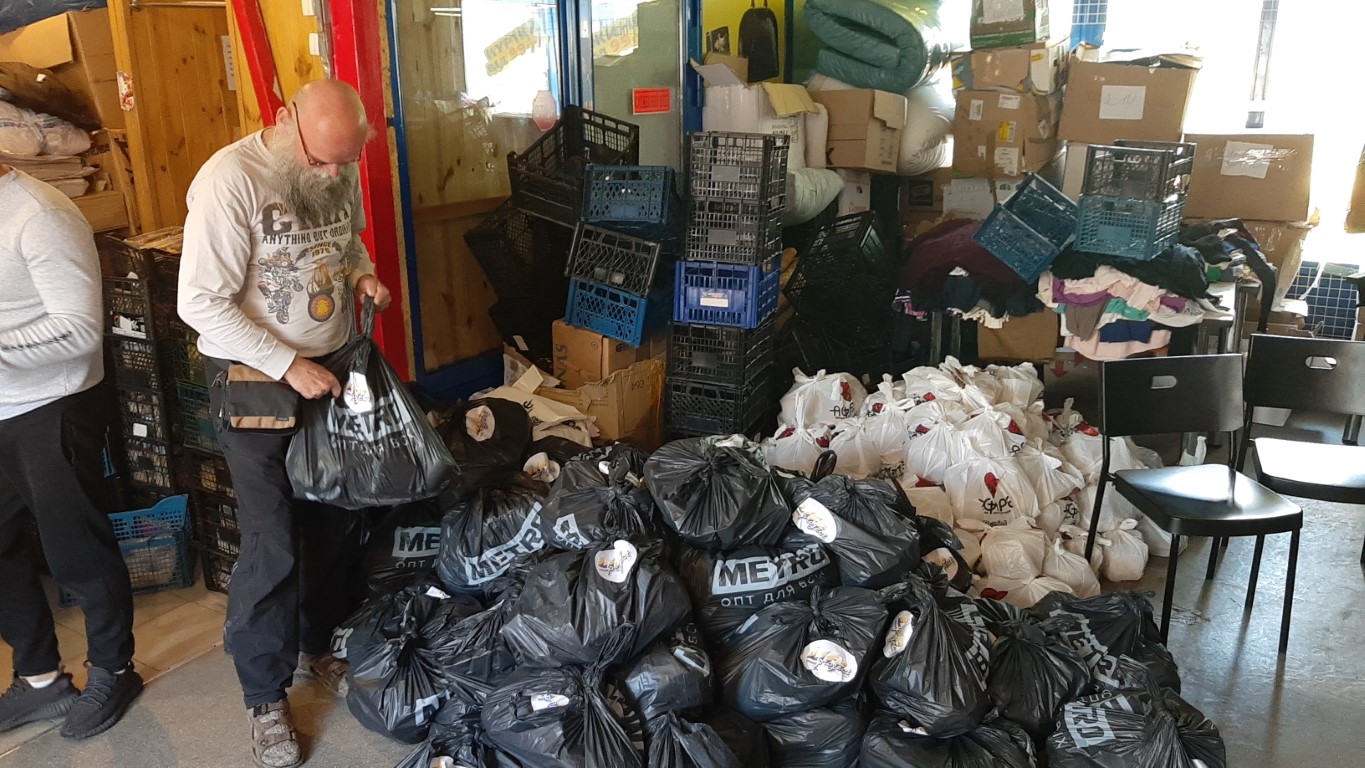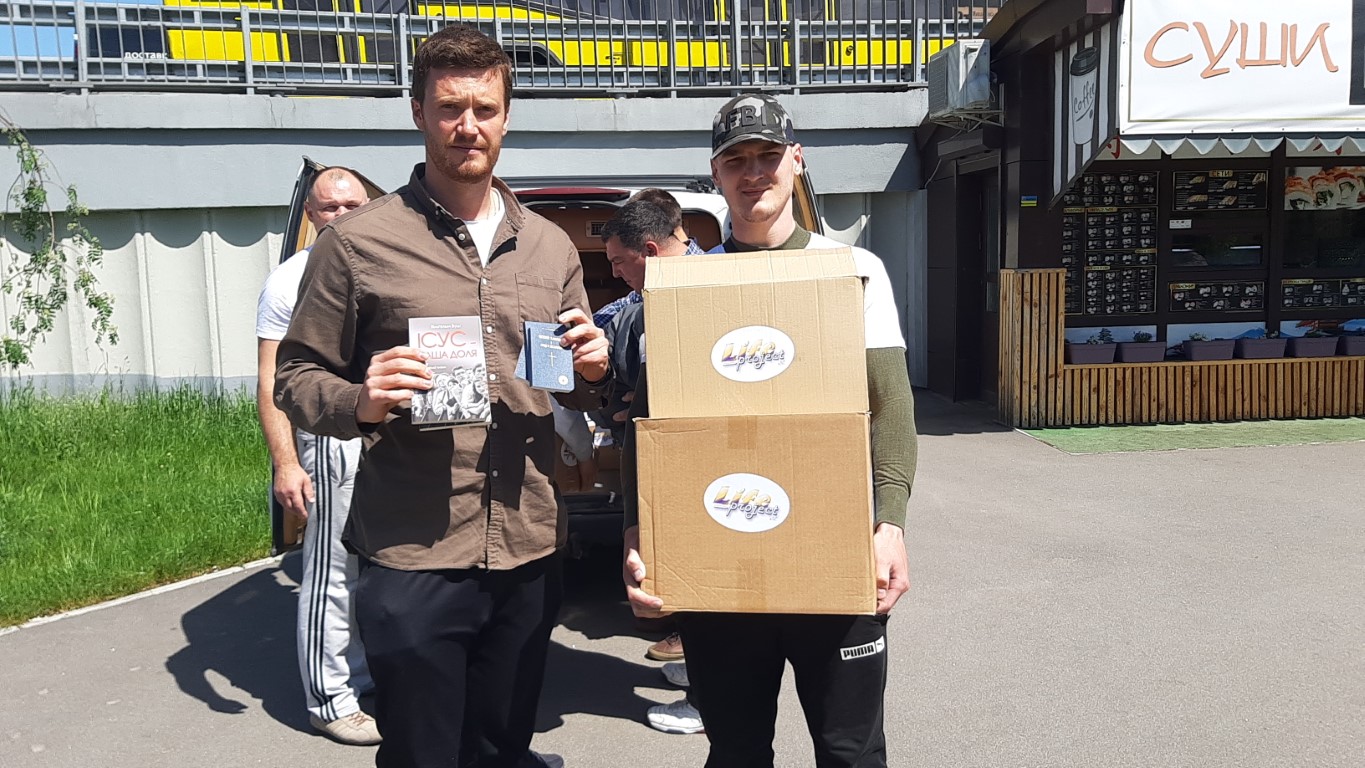 We also brought Gideon Bibles and "Jesus Our Destiny" (evangelistic book by well-known author Wilhelm Busch) in Ukrainian from Aalen ...
People were admitted in groups after registering and Roshdi preached a short but clear evangelistic sermon. The reaction of the people was also only positive. The relief supplies are then handed out and distributed free of charge. A book table with Christian literature was also popular. If there were to be a war in Aalen, we would probably organize it the same way.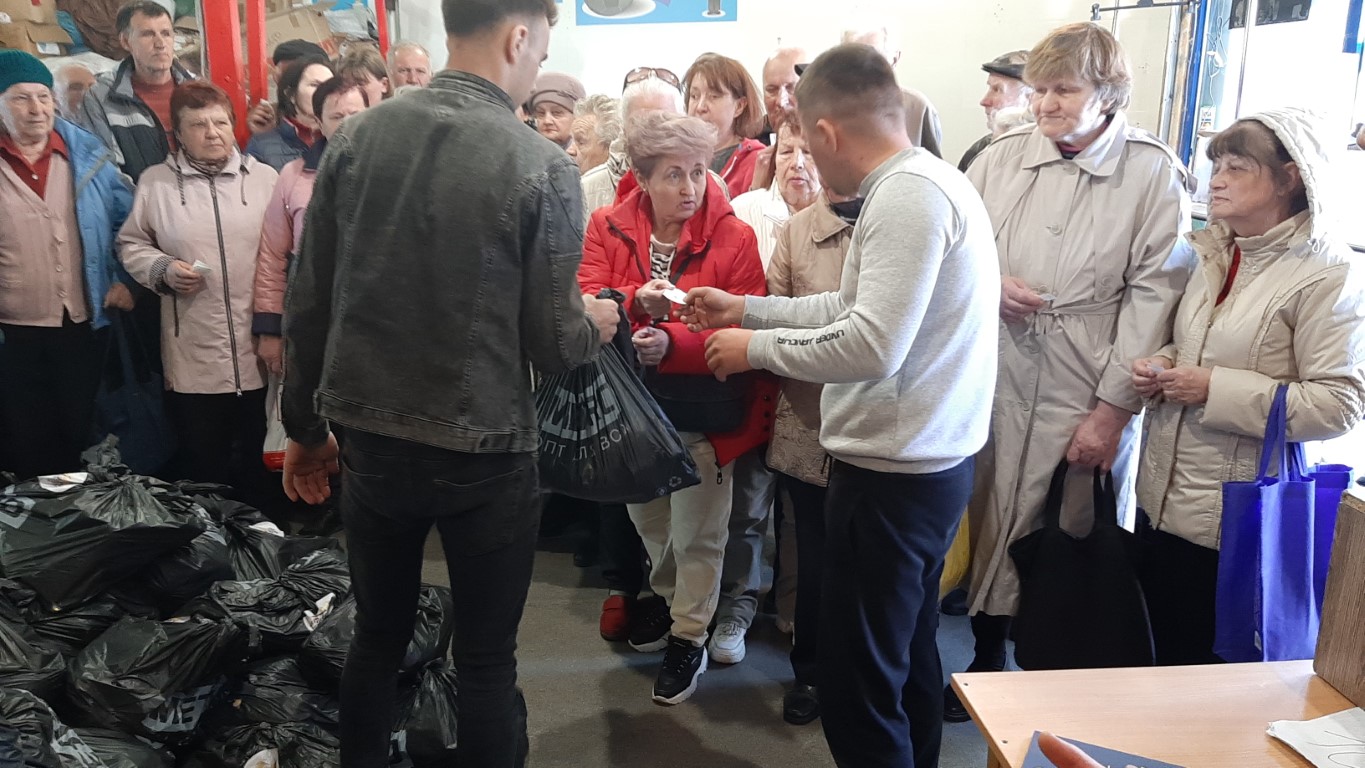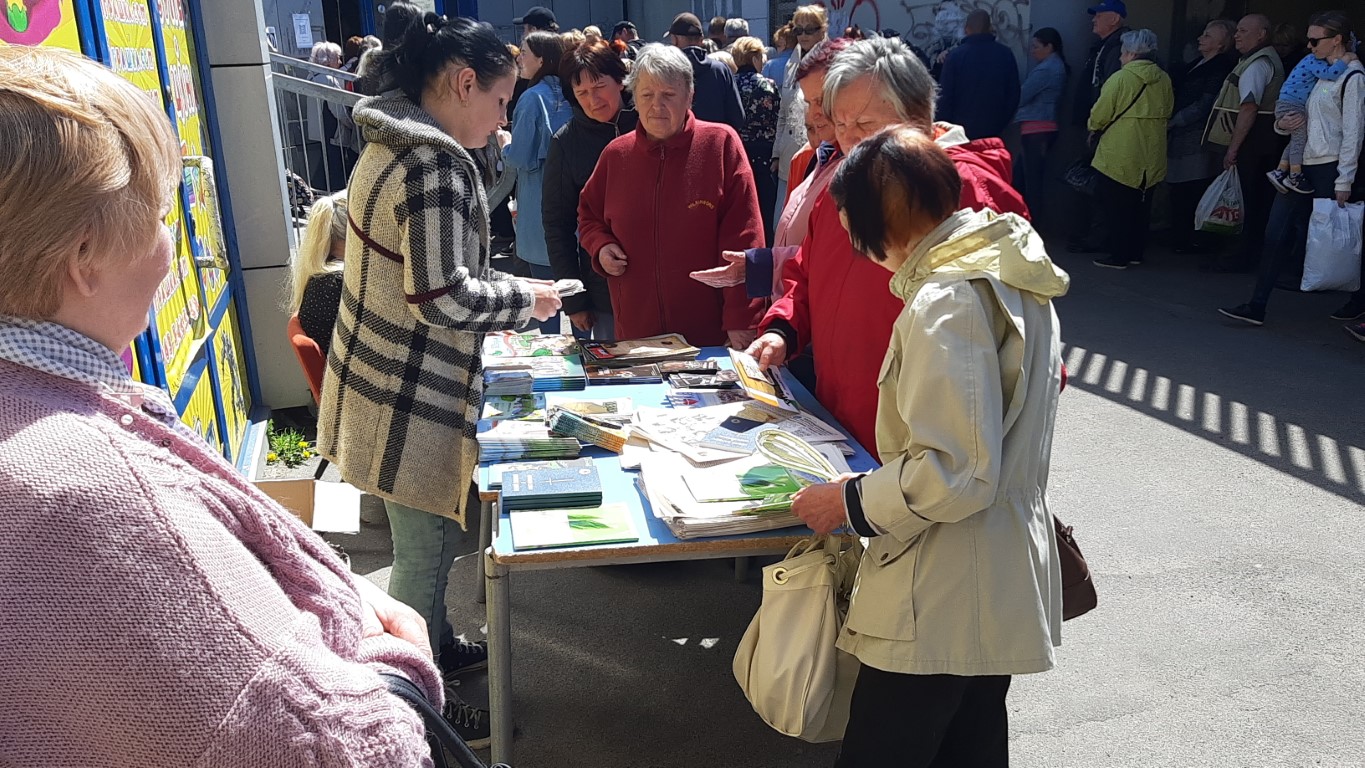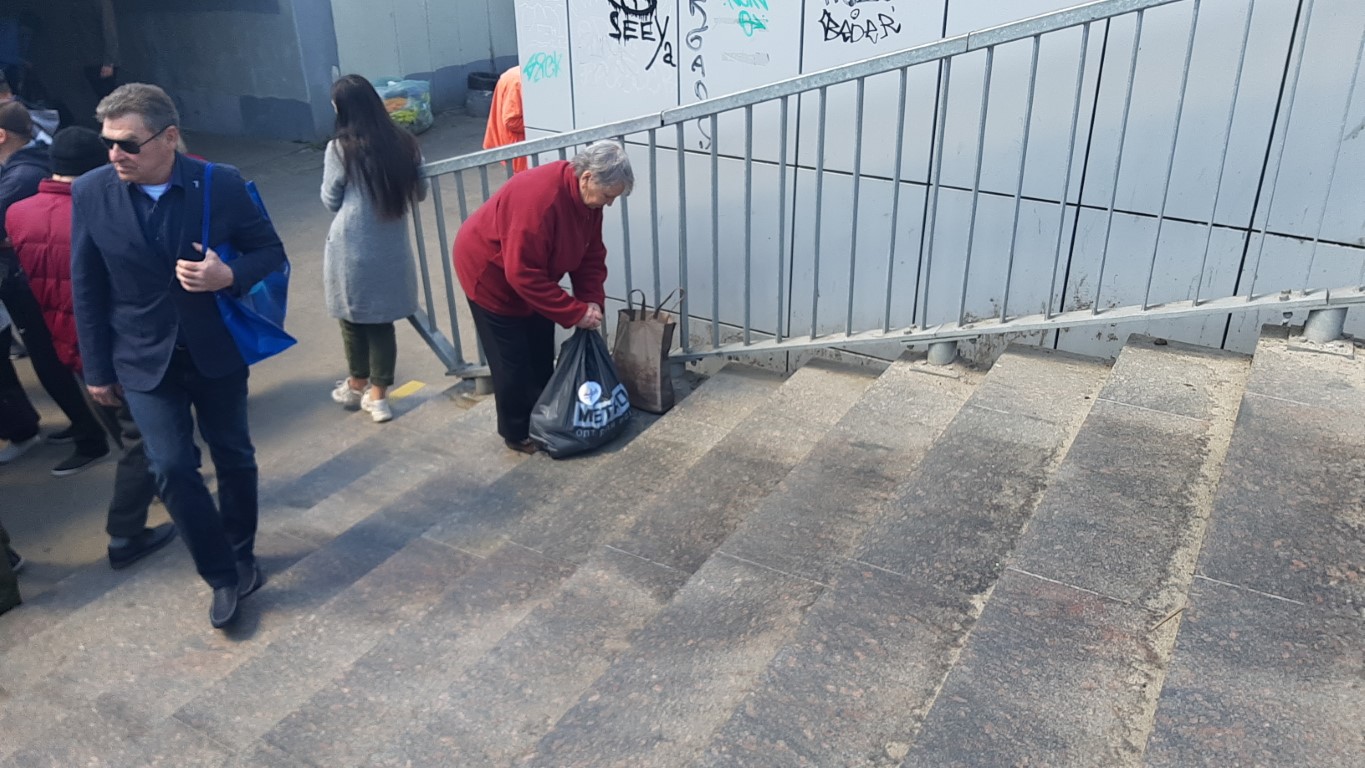 Approximately 300 people are provided with essential items here free of charge every day - provided that sufficient funds are available. Spiritual nourishment and physical support alike. Impressed by the commitment of these believers in Kyiv, we turned over approx. 2,500 euros to this church, which has been supporting this campaign since the beginning of the war. We will also receive pictures and small videos in the following days, some of which you can view below: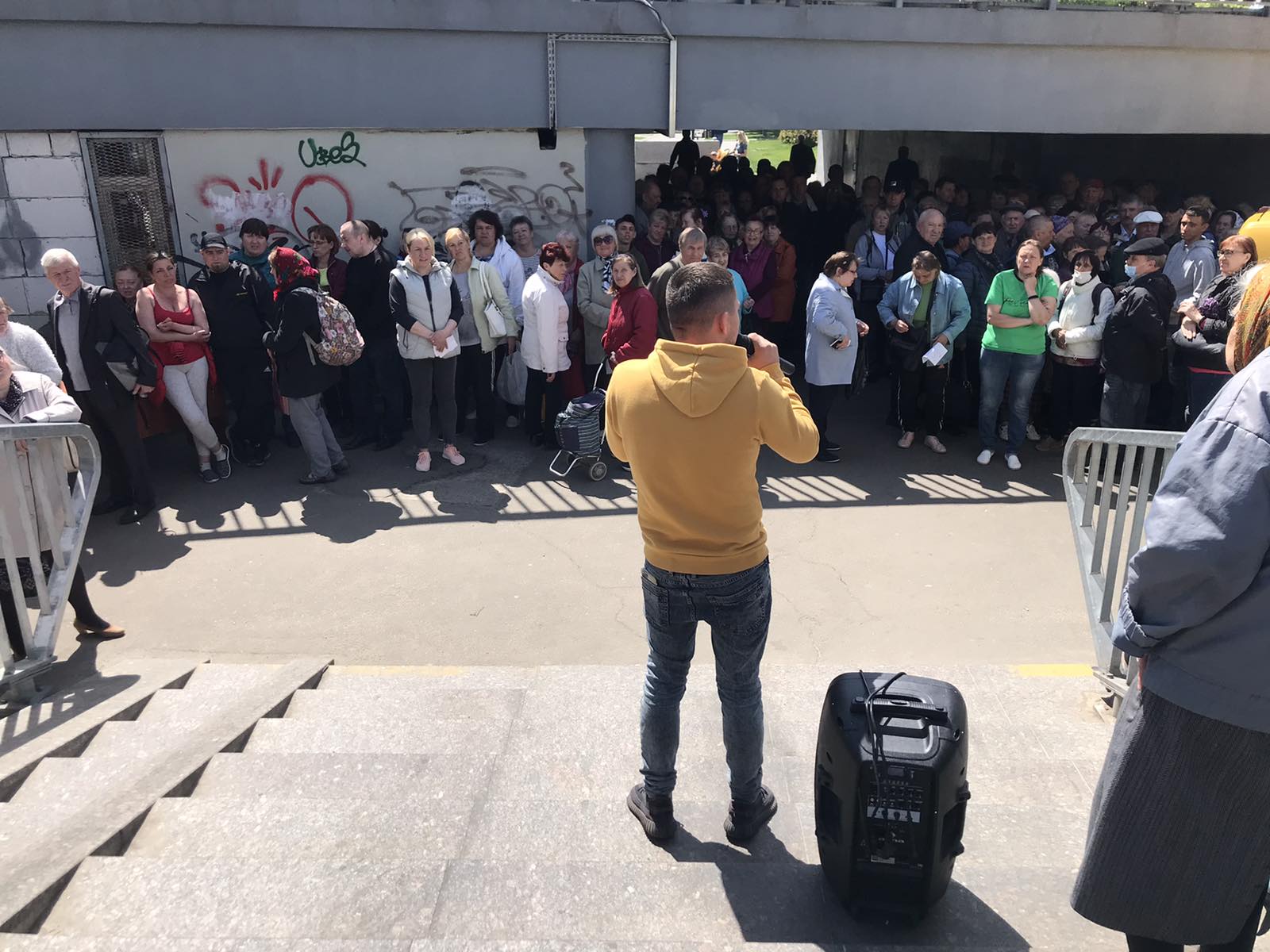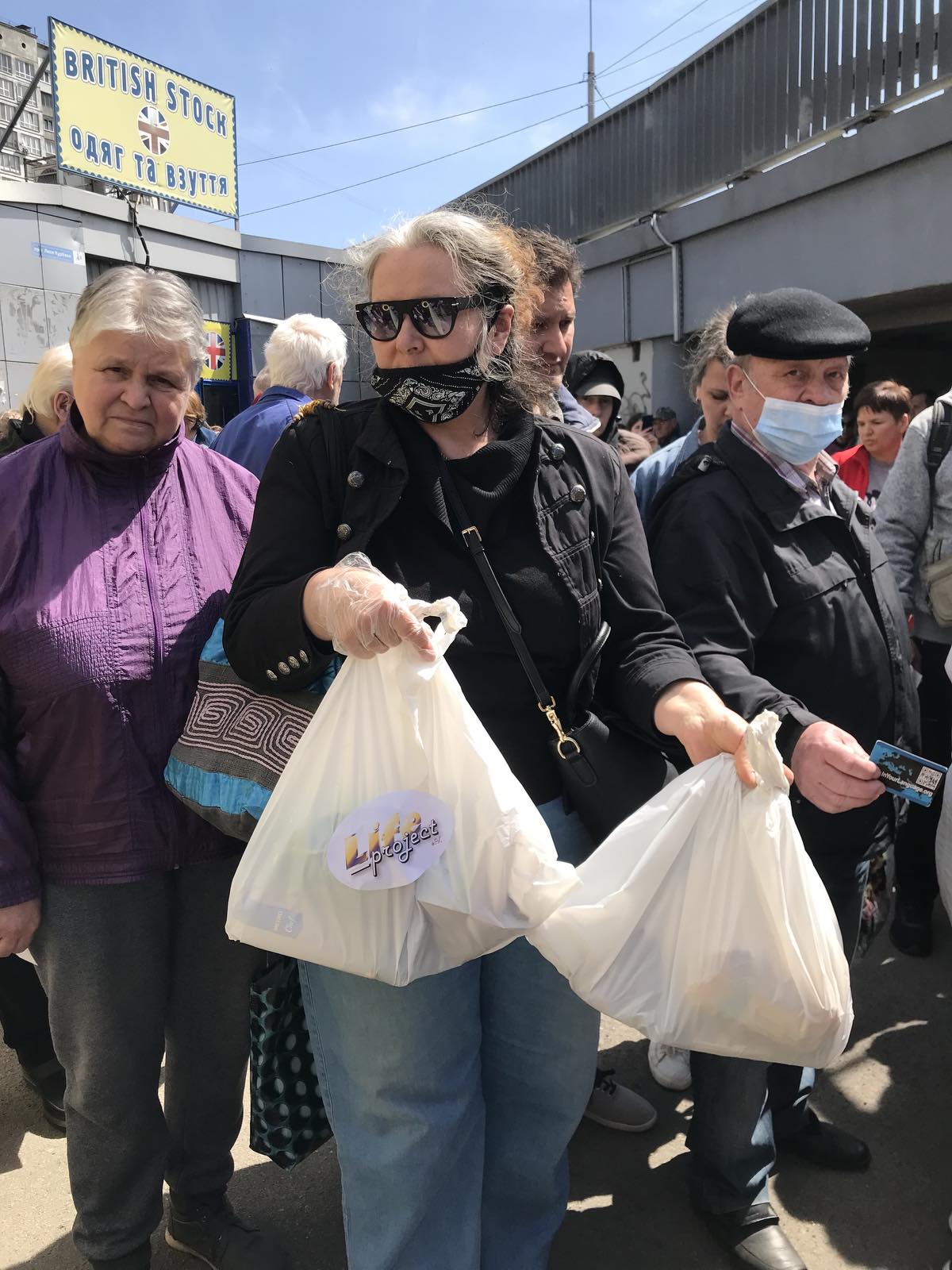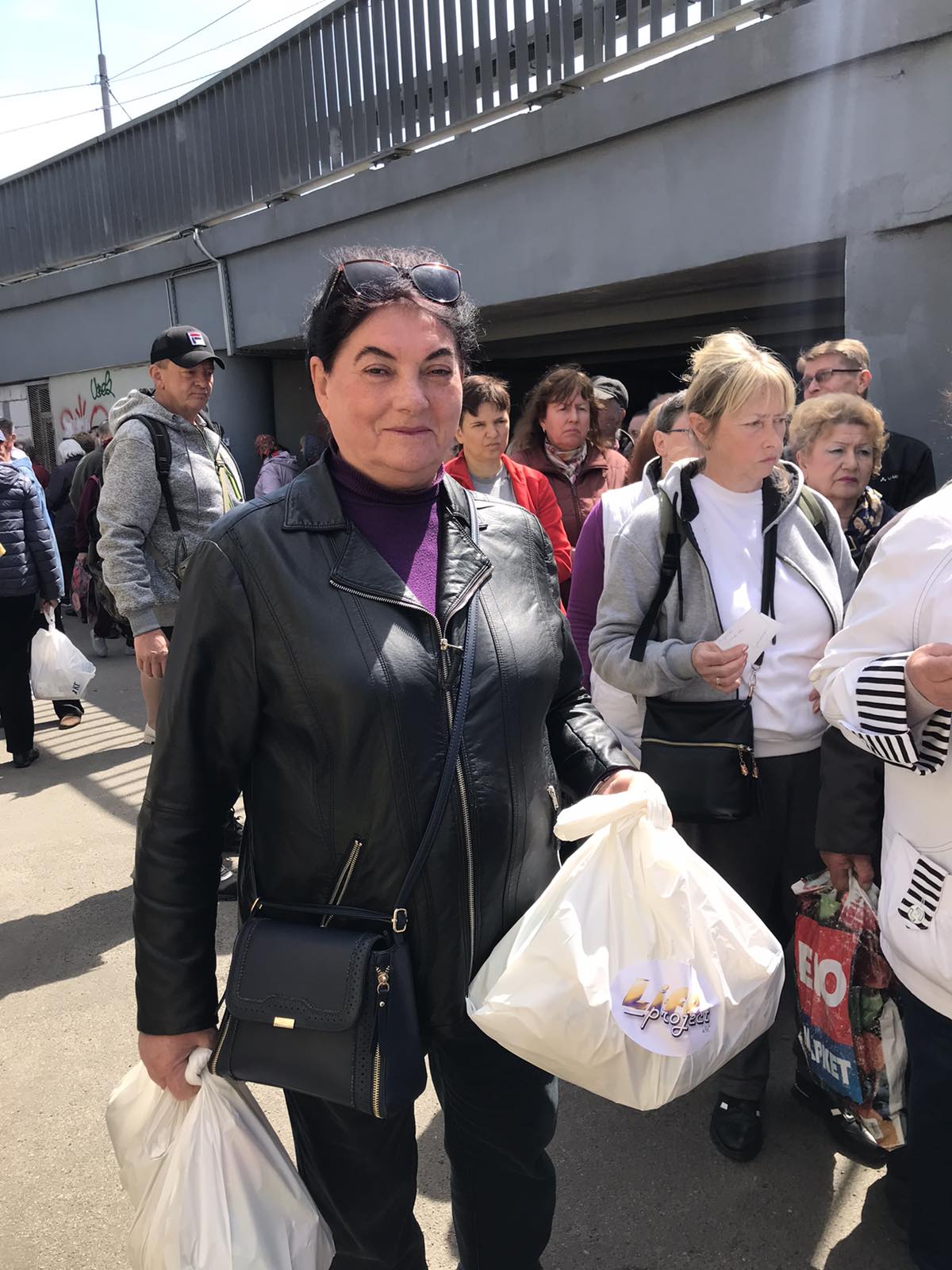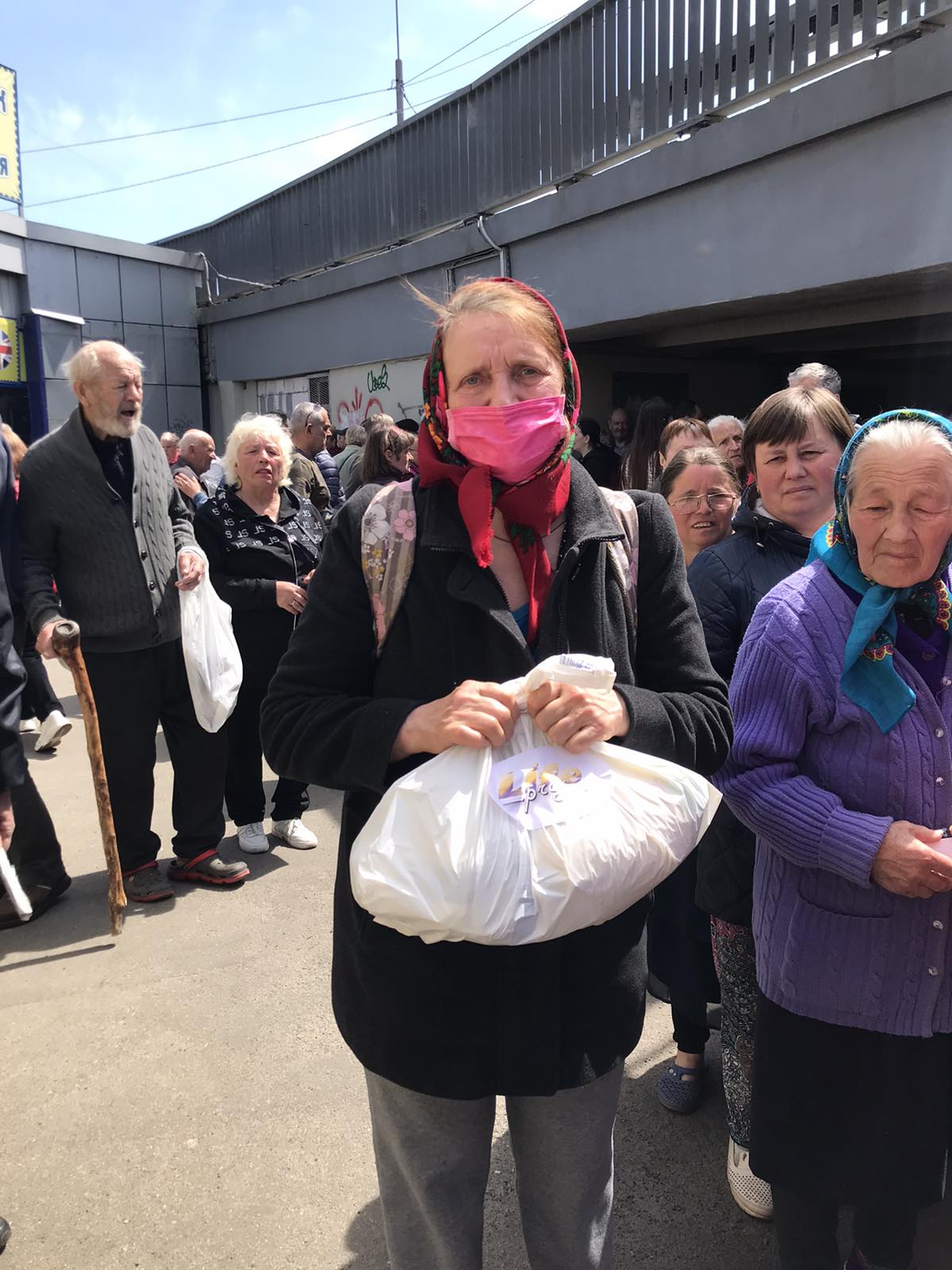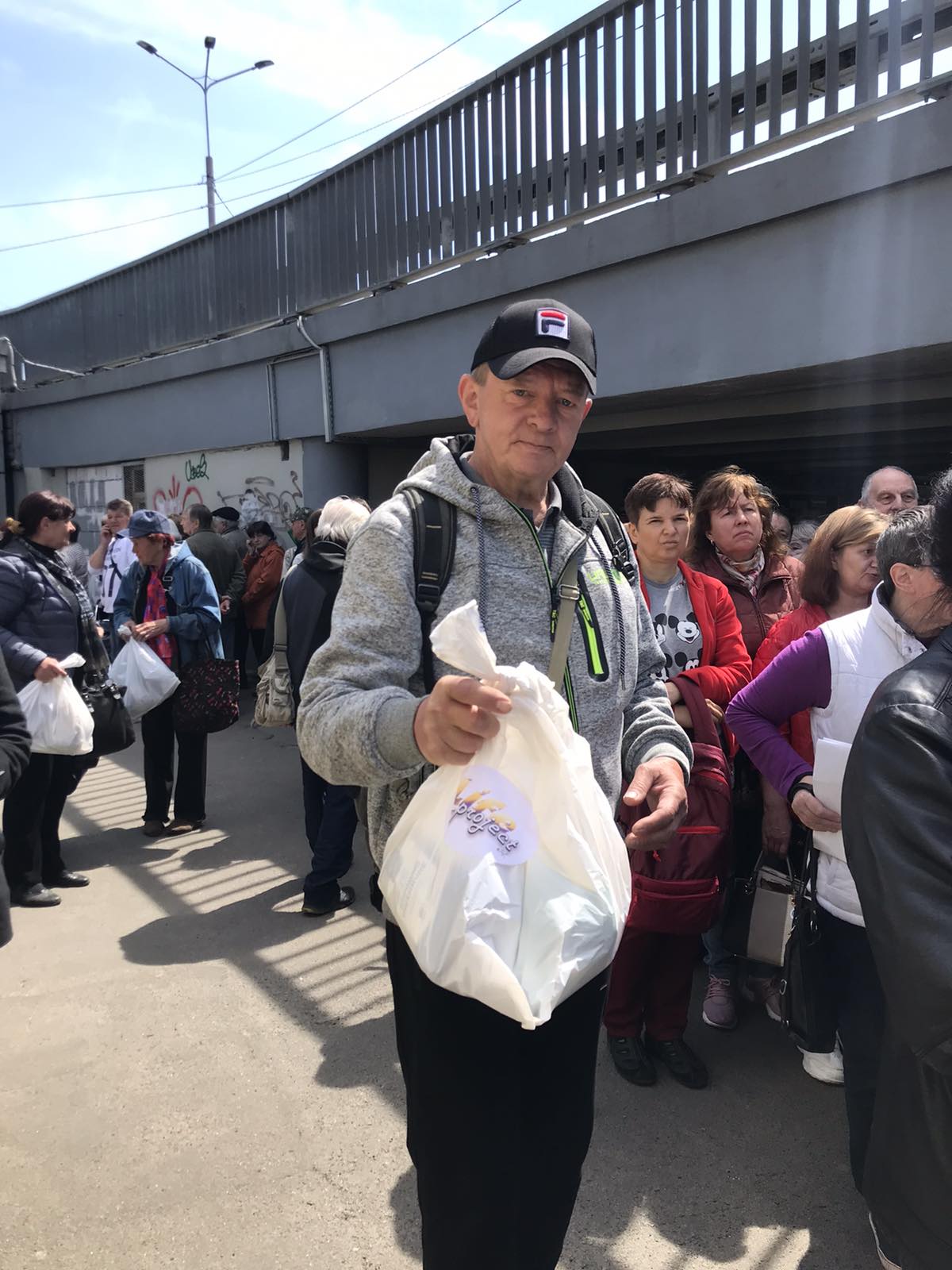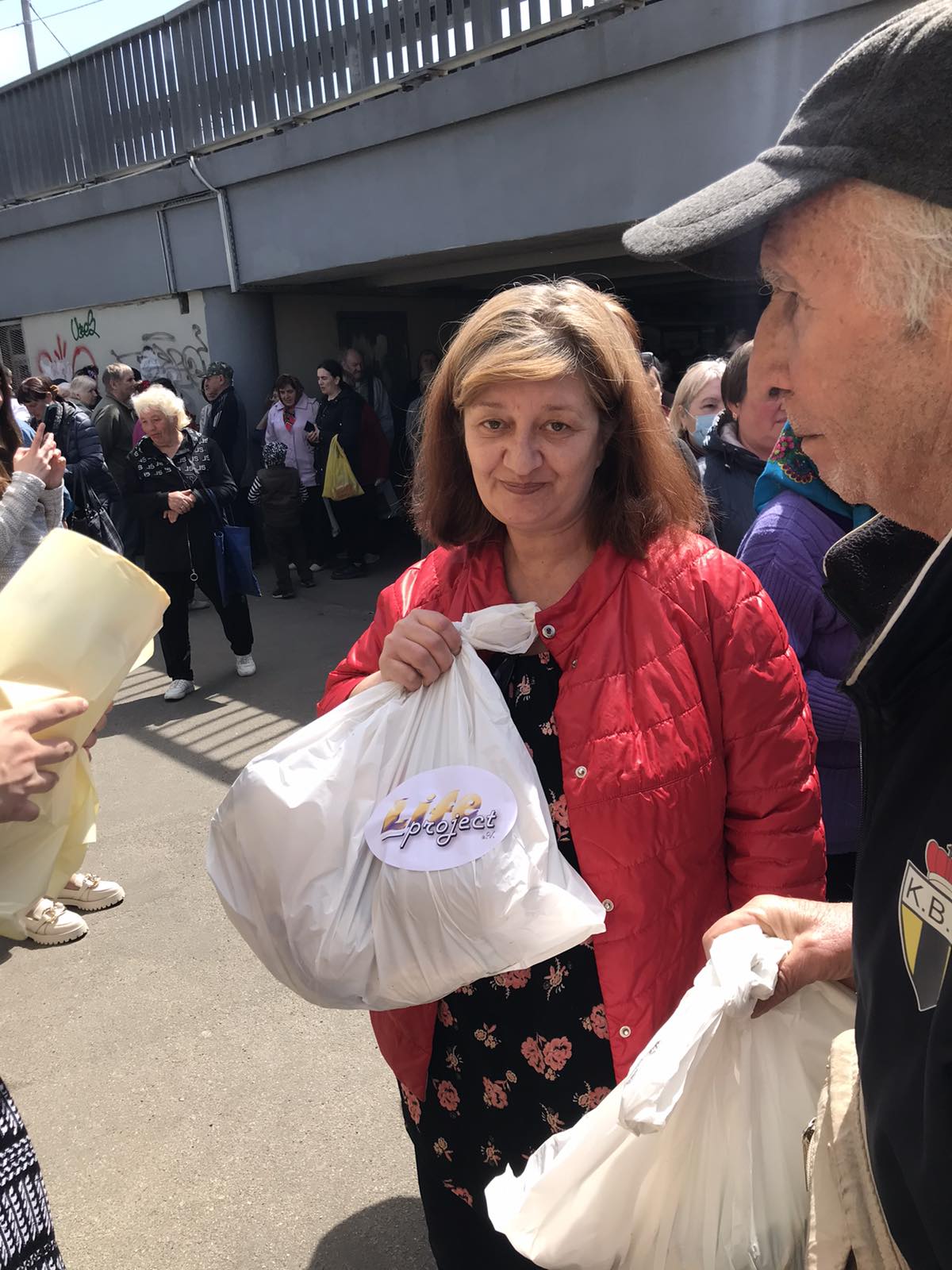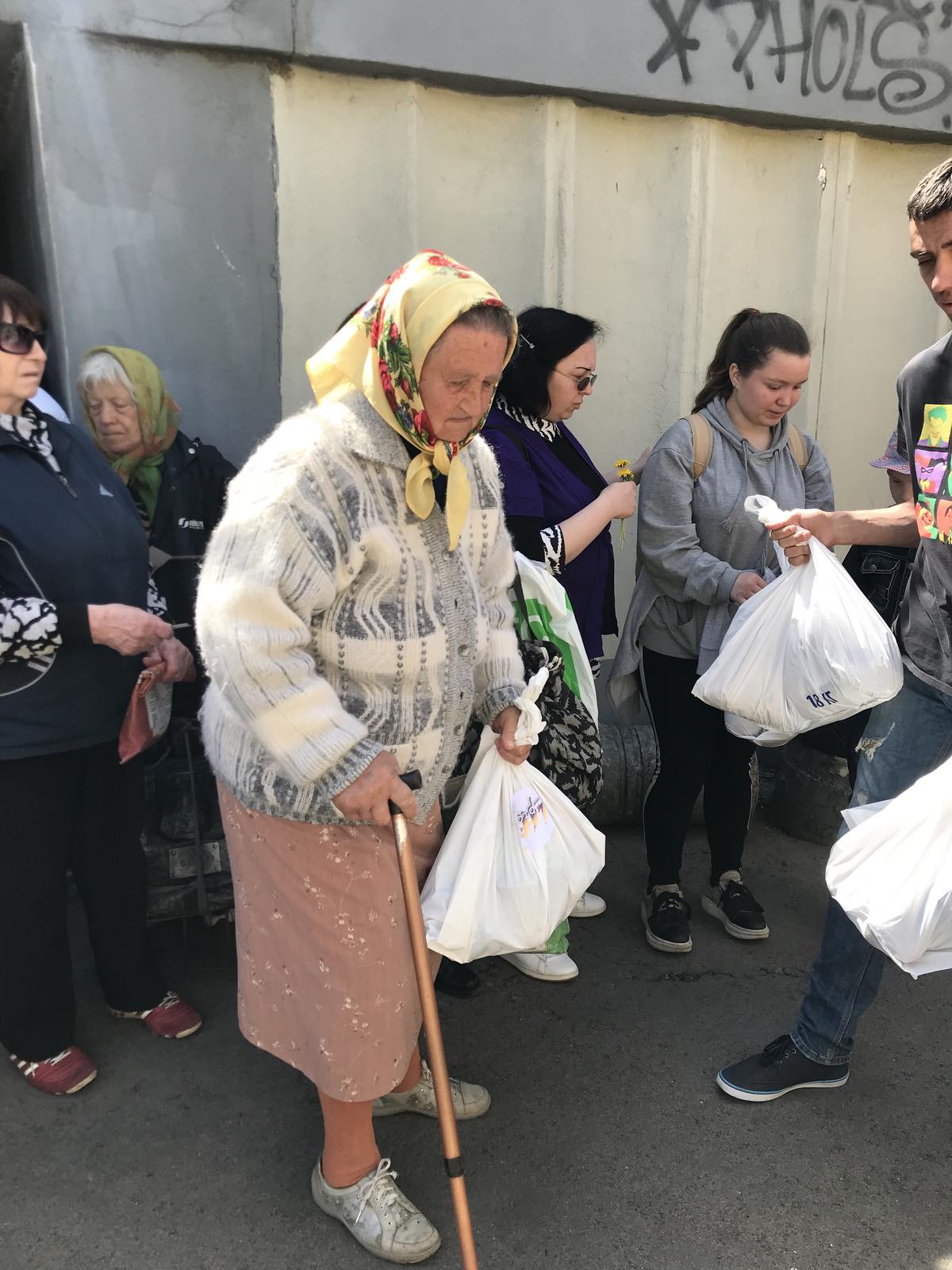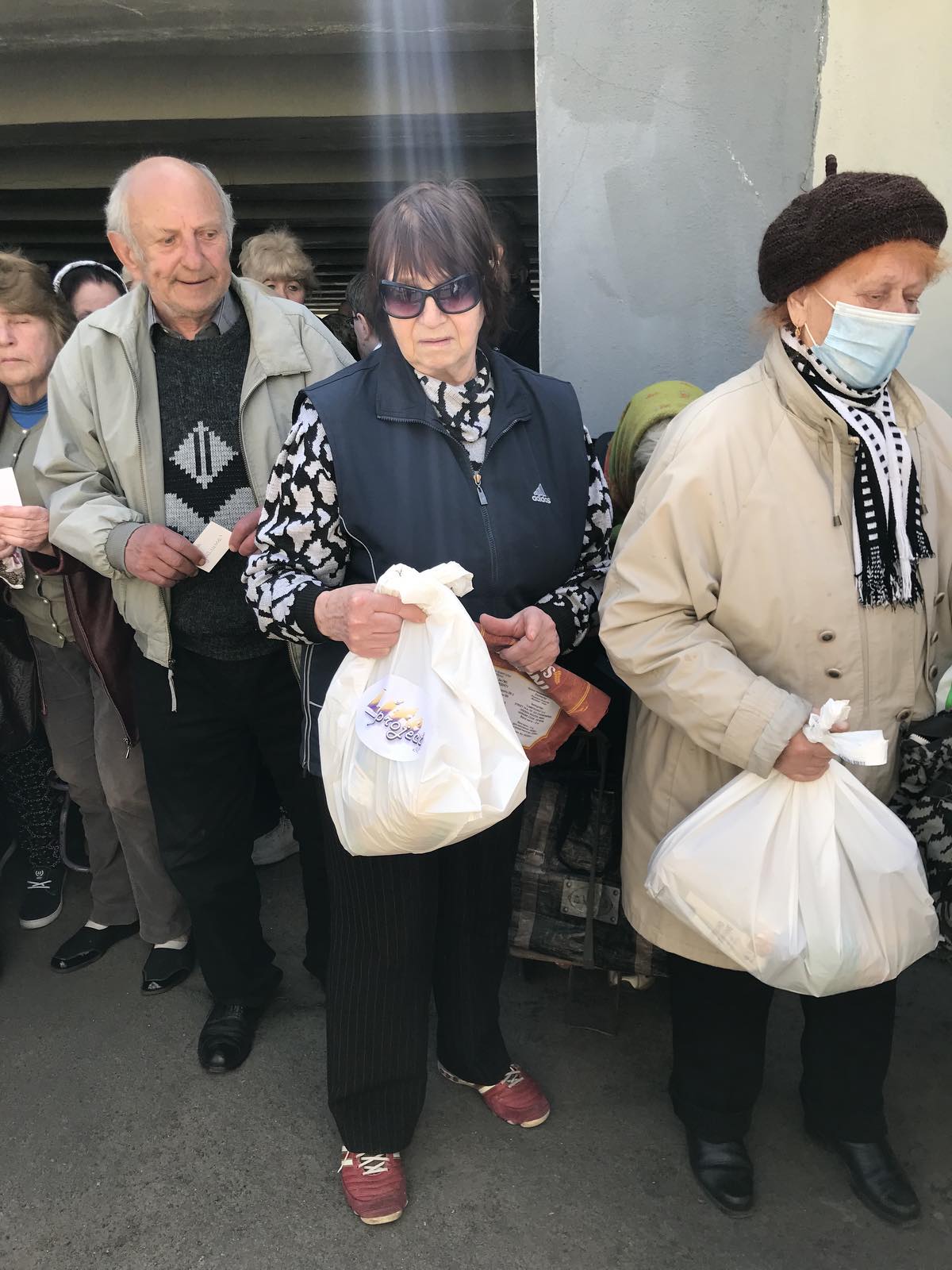 Here is a small video summary of 2 minutes that I uploaded to Youtube
and would like to warmly recommend to you:
Report on the 110 tourniquets (hemostatic ligatures for limbs) and the medical dressing materials from Germany:
This time we bought about 3000.00 euros in bandage material and more than 100 tourniquets from Aalen for about 600.00 euros. We left these boxes with Boris because our van had to go into the workshop and we drove to Kyiv with a smaller van. Therefore we couldn't directly hand them over to an organization in Kyiv as planned in order to drive these urgently needed items to the current crisis areas in Luhansk and Donetsk. Nevertheless, all these boxes were delivered to their planned destination a few days later. However, we have not gotten pictures from that area as of yet. The geodata contained in pictures taken with smartphones can be read by the Russian side, which is why we are not receiving any pictures from the areas where fighting is taking place at the moment. However, feedback confirms the grateful receipt of the urgently needed wound dressing materials.
The little Baptist church in the countryside near Anadoly



On our last visit we met Vitali. He is the pastor of a small village church in a poor area about 2 hours drive from Boris. In the south of the country.
From this small village there are 15 men engaged in the war, some have been wounded, one is in the hospital. During our last visit, we gave Vitali a total of 1,500.00 euros. There the women are busy several times a week cooking together and collecting food and other necessities needed by their soldiers.
These are then loaded into a car and driven to the front. In this way, the entire village community supports their soldiers at the front. And of course many other soldiers also benefit from this.
This time we supported this work with part of your donations (2,000.00 euros), which we handed over to Vitali in trust.
We showed pictures of the activities of this village church last time and have since received several more. Wherever possible, Vitali has also tried to get us receipts from the local markets where these people shop every day. This is difficult to obtain as receipts are not usually printed out in village markets. They have also tried to shop in stores in more distant towns, as it has not been possible to get receipts from the markets everywhere. We were not able to visit Vitali on our current trip because it was not possible due to the schedule. But Vitali really wanted to meet us and took a drive of several hours to visit Boris. He had been given a large container of petrol beforehand and therefore did not have to stop at a gas station, at least on the way here (that was another pearl of God's grace, by the way, which was lined up on a long chain of God's grace during our trip).
I have not yet uploaded the pictures to the blog of his work that Vitali brought us, but they are very similar to the pictures from our previous trip. This is not surprising, because it is not a large-scale relief operation, but rather a very constant local effort, which directly helps the soldiers on the front lines and is therefore somewhat unspectacular to report, but it represents really continuous direct and long-term help for these people. We would like to ask each of you to continue to support this in the future.
We would like to emphasize that during our last visit, upon Vitali's express request, we allowed him to distribute the clothes and money we had brought with us to some very poor villagers and families. Vitali can also use a small part of the money for distribution in his own village. The standard of living in this village is actually very low and most of them live from their fields at home and only work seasonally on larger farms. There is hardly any industry here, the cost of living is rising because of inflation and the poor people suffer the most here too. So we left it up to Vitali to distribute a small part of the goods we had brought with us and also a small part of the money in the village. Vitali is a trustworthy person who cares deeply about his flock. He himself is a simple man and lives very modestly in poor circumstances. He is a loving brother with a humble heart and a good shepherd of the church whom we have come to appreciate very much.
The time passed very quickly. Due to the long distances that we covered, we effectively only had 2 days between our departure in Aalen on Friday evening and our arrival in Aalen on Thursday morning at 1:30 am. On Sunday they started with the service in the village of Boris and the afternoon drive to Kyiv. On Tuesday we made our way south again, where we met Vitali and exchanged ideas with him for a few hours. After that we stayed with Boris again. We covered almost 5000 kilometers on this trip but we are already looking forward to seeing our fellow believers there again. Both in Kyiv, and in Anadoly, as well as the Chernivtsi region.
All that remains is for me to thank our LORD for the protection and a long series of acts of mercy with which He has shown us this time.
Reducing a wait of 3 days to 3 hours, passing through many military controls, finding the gas stations with petrol, the Kiev police and their offer to drive with us to the war zone in Irpin and last but not least His protection and the many large and small events and "coincidences" (which in fact are not coincidences).
This trip will remain in all of our memories. Above all, we thank our God for the many brothers and sisters in the Ukrainian churches who are willing to sacrifice their time and their lives as they trust in our gracious God. They are not afraid to devote their time and their lives to God's harvest field. To the glory of our Lord and to the testimony of his love for his children.
Let's pray for this country!
Let's pray for these churches and the people whose faith must demonstrate itself during this time
Let us give thanks to our Lord Jesus Christ for the grace and care He pours out on his church and our brothers and sisters there during this difficult time.
And last but not least, we thank you, our brothers and sisters in Germany and the USA, and also all friends of Life-Project e.V. who pray with us and/or support this project with their gifts. We will continue as long as necessary and as long as God's goodness encourages us all to keep going.
Glory to the LORD alone!
Gert
Here our contact and donation information:
Life-project e.V.
Julius-Bausch-Straße 37,
73431 Aalen, Deutschland
1. Vorsitz: Gert Pohl, Aalen
2. Vorsitz: Rainer Ehmann, Stuttgart
Tel. 0172 7300577 Gert Pohl
Tel:. 07365 964942 0 (geschäftliches Telefon Fa. Pohltechnic.com GbR)
Unsere Bankverbindung:
VR-Bank Aalen
BIC: GENODES1AAV
IBAN: DE40614901500024414000
(Bitte mit Vermerk Ukraine)